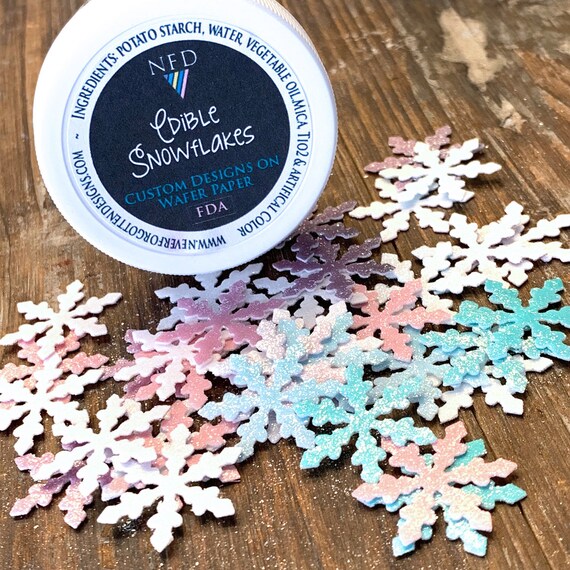 Product Info
Made in an FDA Registered Food Facility. Our Edible Snowflakes for cake pops, cupcakes, cocktails, cookies and more! A perfect touch to a frozen or Christmas party! Add to your hot chocolate for extra wow factor! Snowflakes are on PREMIUM HEAVY CARDSTOCK GRADE WAFER PAPER which is 3Xs as thick as typical wafer paper. NOT TRANSLUCENT AND STAND VERTICAL WITHOUT BENDING OVER.
THIS LISTING IS FOR PRECUT - 2 DOZEN SNOWFLAKES SIZE 1" INCH COLOR MIX WHITE, BLUE, AQUA and LIGHT PURPLE WITH FDA APPROVED FOOD GRADE GLITTER or WHITE ONLY.
Snowflakes can be used on drinks, wine glasses, mason jars, cake pops, cupcakes, cookies or cakes! Throw on you pancakes, sprinkle on some yogurt or even place on some veges for food fun!
Size: 1 Inch
Interested in a 1/2" inch miniature version? The second picture is a comparison of the sizes. Please see our listing below!
https://www.etsy.com/listing/261570972/miniature-frozen-themed-snowflakes
Want Shimmer? Buy more shimmer to spray on all your treats to sparkle! Our food safe shimmer, FLASH DUST BY NFD, is Kosher Certified, FDA Compliant and uses only natural coloring! Check it out here: https://www.neverforgottendesigns.com/products/edible-flash-dust-glitter-by-nfd
Please include the date of your event so I can be sure you receive it in time:-)
All Edible Snowflakes are printed on Wafer Paper with FDA approved edible ink. They are almost tasteless, similar to a communion wafer.
If you have an event that is coming up please let me know. Shipping is NOT guaranteed via Priority Mail. Please ask for a custom order if you need you guaranteed.