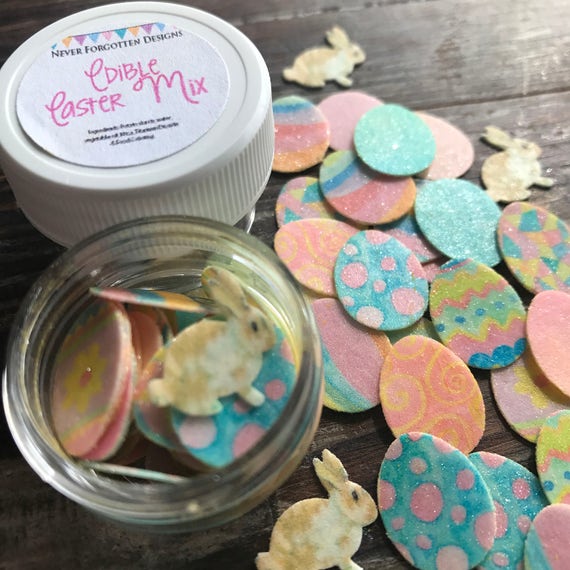 Product Info
Edible Easter eggs are a perfect whimsical touch on drinks, wine glasses, mason jars, cake pops, cupcakes, cookies or cakes! Created with 100% FDA Approved ingredients, theses GLUTEN-FREE Fun Food Sprinkles by Never Forgotten Designs are created in the certified commercial kitchen, The Studio, in St. Louis. These Easter Themed Eggs and Bunny Edible Fun Food Sprinkles are a perfect touch to any Easter Festivity! Add to food, desserts and even milk to make Easter Fun! With no taste, they can be added to ANY food, perfect for your picky eater! Sprinkles are full color on both sides so you can't go wrong when you add them to treats, cupcakes, cakes, yogurt or beverage!
THIS LISTING IS FOR PRECUT 36 Easter Themed Fund Food Sprinkles SIZE 5/8" INCH WITH Foodgrade Flash Dust Glitter for a shimmer effect IN A RECLOSABLE, HEAT SEALED CONTAINER.
All Fund Food Sprinkles by Never Forgotten Designs are printed on Wafer Paper with FDA approved edible ink. They are almost tasteless, similar to a communion wafer. Lay flat or stand up right! Gently bend the wings up for a 3D Effect. I sell all sorts of butterflies, please see my other listings.