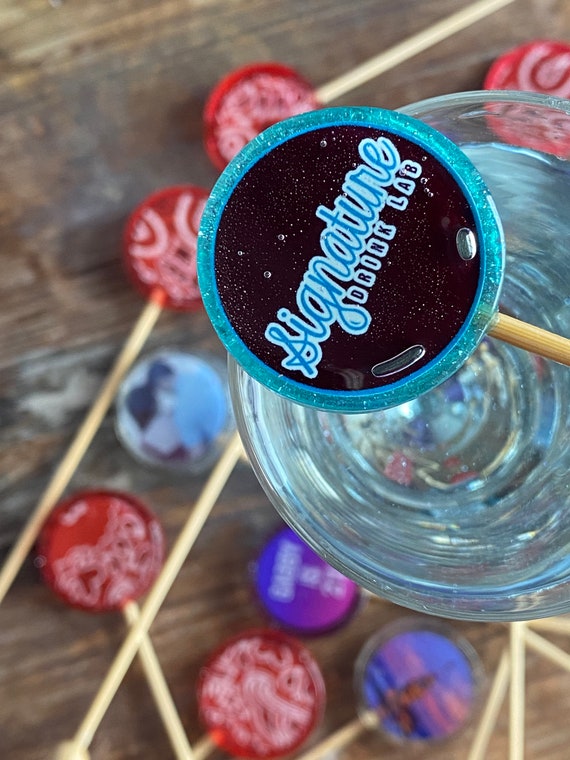 Product Info
Stock the Bar with Custom Hard Candy Drink Stir Sticks Paddles. Perfect for branding your event, wedding, signature drinks with your logo. Can be also made to release glitter as you stir and the sugar-free candy breaks down into your beverage.
Options include Clear Front & Back, Clear Front with Gold or Silver Infused Food-Grade Flash Dust Glitter Or Clear Front With Colored Back.
Made in FDA Registered Food Manufacturing Facility - Kosher Certified
YOU GET: 1 DOZEN (12 COUNT) DRINK STIR STICKS of ONE IMAGE - Please note, we will print READY TO PRINT DESIGNS, LOGOS & PHOTOS only. Please send us a message in ETSY with the image/logo/photo ready to print. We will crop a circle and print out your order, shipping to you directly. No proofs unless requested in order notes.
IF YOU NEED MULTIPLE IMAGES: One image per set ordered.
If ordering more than 36, contact us for discounted pricing.
4 Dozen - 8 Dozen 5% Discount
9 Dozen - 20 Dozen 10% Discount
For orders over 20 Dozen, Please contact our wholesale for bulk pricing.
CUSTOM DESIGN: If you do not already have a design or image and would like us to create a custom design for you, there will be a $15 charge. Please note the custom design option will add to the production time of your order. IF YOU NEED MORE THAN ONE DESIGNS OF YOUR CUSTOM ORDER, the cost is $15 per designs. Add this listing for us to design your image for you:

RUSH: If you need your order DELIVERED within 7 days, you must add the RUSH MY ORDER add-on to your order https://www.etsy.com/listing/893020858/rush-my-order-in-front-of-the-line. In the event you order without the rush my order option and need your order within 7 days, we will automatically cancel your order. We cannot accommodate rush orders without paid fees and a faster shipping option chosen.
COMPETE THE LOOK WITH:
Glittering Rim Sugar: https://www.etsy.com/listing/1219292018/sparkling-shimmer-glitter-sugar-for-rims
Drinkable Food-Grade Glitter: https://www.etsy.com/listing/736169180/food-grade-color-dye-shimmer-glitter
*Colors may appear different on your digital display / phone than what will actually print. Edible inks and edible papers are NOT as exact as professional photo printing, though some images may print perfectly, color codes are read in PHOTOSHOP and then printed on an edible printer with edible inks and MAY have a different hue / look than you see on your display.