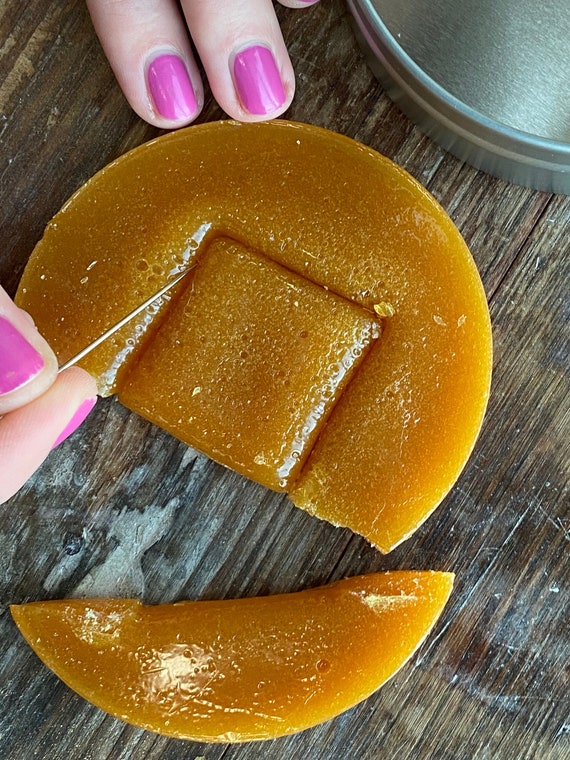 Hard Candy Dalgona Games In Tin with Needle for Lockdown | SQUID Candy | Korean Dalgona Candy Recipe Party Favors
By Never Forgotten Designs
Product Info
Into playing games like on the latest show on TV? Dalgona Hard Candy come in metal tin with a sewing needle and are English Toffee flavored fun for any event and can be eaten, place on a squid flavored cake (EWW!), licked, gifted or given for a party favor!
**********MADE IN FDA REGISTERED FOOD MANUFACTURING FACILITY IN STL*******************
Created in a FDA Registered Food Manufacturing Facility of Never Forgotten Designs (NFD) in St. Louis, all sugar art creations comply with federal and local health codes and regulations. See our website for more information www.NeverForgottenDesigns.com / www.sugarartsupply.com
Sold in singles and sets. Each 3.75" candy comes individually sealed inside a metal tin, the tin is then placed inside a second sealed bag for extra freshness & safety. Also, a very sharp sewing needing with poly bag is included for playing the game.
Due to the nature of the game and sharpness of the needle, this is NOT for children. Great for Halloween, Viewing Parties, Stocking Stuffers, Strange Gifts, Games & More!
*****BREAKAGE - INSURANCE******
Please note we package these with bubble wrap inside the tins for best shipping to avoid breakage. Please inspect as soon as recieved. Both the candy itself and the tin is sealed. In the unlikely event breakage occurs with the candy, we will happily replace if reported to us within 24 hours of delivery. We will send via First Class Mail a replacement candy to put in your tin if breakage occurs. Please note ALL DALGONA orders come with limited insurance via Prioirty Mail and/or UPS. If you miss the window to have us mail you a new piece of DALGONA, you can file a claim directly with the carrier. We have shipped hundreds of these in the past month with only ONE breakage report.
******CHRISTMAS DELIVERY**************
DECEMBER 17TH 2021 IS LAST DAY FOR ORDERING WITH PRIORITY MAIL BEFORE CHRISTMAS PER USPS GUIDELINES. ALL ORDERS AFTER DECEMBER 17TH SELECT EXPRESS MAIL TO ENSURE DELIVERY BEFORE CHRISTMAS. NO DALGONA ORDERS WILL BE PROCESSED AFTER DECEMBER 20TH 2021.
Most orders ship within 24-48 hours. December 17th is last day to ensure delivery if using PRIORITY MAIL. Please note, we can not guarantee the mail but will process your order as soon as possible. We have a limited number of TINS, once we run out, we are SOLD OUT & can only process DALGONA without TINS. Please place your orders early to avoid sell outs.
Created in a FDA Registered Food Manufacturing Facility of Never Forgotten Designs (NFD) in St. Louis, all sugar art creations comply with federal and local health codes and regulations. See our website for more information www.NeverForgottenDesigns.com / www.sugarartsupply.com