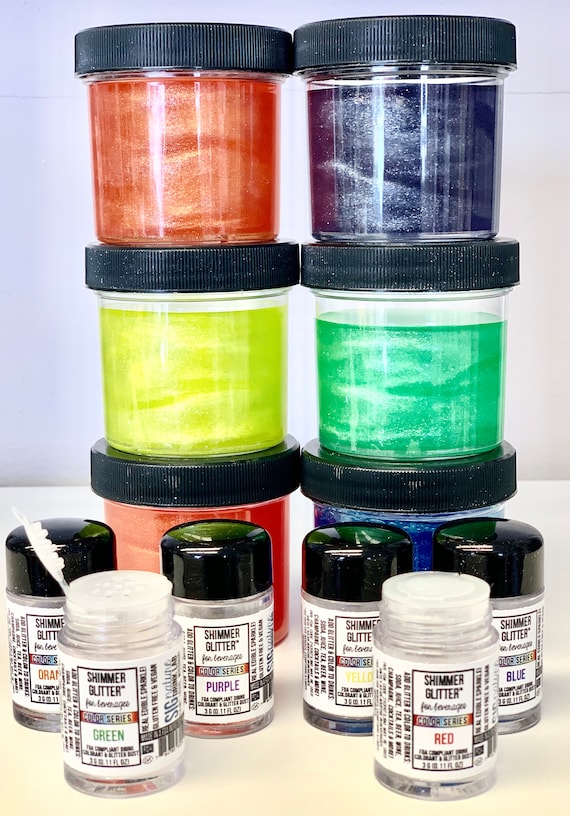 Food Grade Color Dye Shimmer Glitter Beverage Dust for Coffee, Cocktails, Beer, Wine and More
By Never Forgotten Designs
Product Info
Add color and sparkle to your transparent drinks! A safe, edible glitter dust that can be sprinkled into any beverage for that shimmery, glittery effect. Sprinkle in water, juice, tea, beer, coffee, spirits and more per FDA Code for a fun wow factor to your drinks. Perfect for signature drinks for wedding!
The Color Series of Shimmer Glitter Dust is Food Grade, is Kosher Certified. We use ONLY FDA Compliant Ingredients. The dust will magically release color the minute they hit liquid. For best results, use in clear and transparent drinks. The more you add, the more color will appear.
*Please note, the Original / Silver & Gold Pearl add NO COLORANT, only edible glitter to your beverages. These two will NOT alter your drink color.
Suggested Usage:
Few Sprinkles from Sampler or 3 Gram Sprinkler: Perfect for Individual Drinks 3-4 Oz.
0.5 Grams - 1 Gram Can Color & Add Sparkle to ONE 750 ML Bottle
1 Gram - Perfect for 2 Liter Soda
Please note: 25 Gram Jar Filled 1/2 Way to avoid product coming out and being wasted when opened. There is 25 Grams of Product, just an oversized jar to save the dust.
Made in USA in an FDA Inspected Food Manufacturing Facility. Signature Drink Lab is the #1 Place for All Your Edible & Drinkable Wow Factor!
See photos on www.signaturedrinklab.com