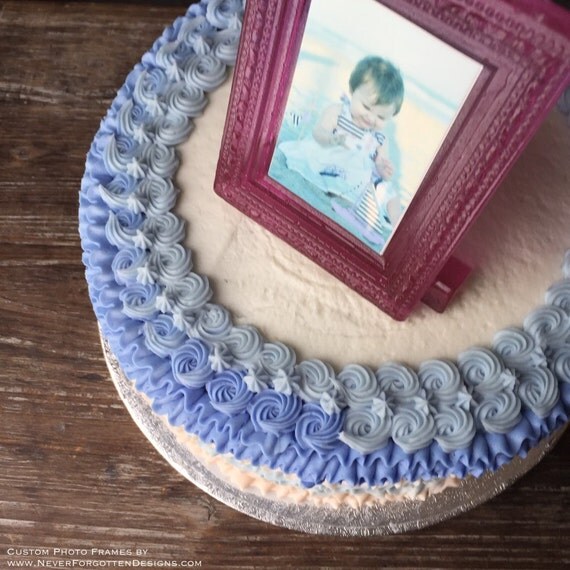 Product Info
Unique hard candy edible sugar photo frame with edible frosting image that stands upright on top of wedding cakes and bridal showers or on dessert tables for a unique and personalized touch! Announce also makes a wonderful frame for a babyshower cake, a neat wedding favor or as edible signage.
Please send me your engagement photos, candid photo or professional photos via a Etsy conversation with the photo to be used. Landscape or portrait is ok.
Size: 4½" tall x 3½" wide x ½" deep
Size: 11½ cm tall x 9 cm wide x 13 mm deep
Frames can come either clear, a specified color or hand painted in gold or silver edible paint.
Please allow 1-2 weeks for this custom item to be created.
Please note, item is made of sugar isomalt and edible images are printed with FDA approved inks on FDA approved frosting paper. Item is heat and light sensitive. Recommended to keep out of direct sunlight / artificial light to avoid fading or color changes of photograph. Best if placed at celebration time. Read more about isomalt on our website at http://www.neverforgottendesigns.com/pages/isomalt-sugar-care
Created in a CERTIFIED, LICENSED & INSURED KITCHEN. Not all Etsy Shops carry the certification The Studio by Never Forgotten Designs has to ensure YOUR safety. Please, whenever purchasing edible items online, verify your provider is creating your items according to FDA standards.