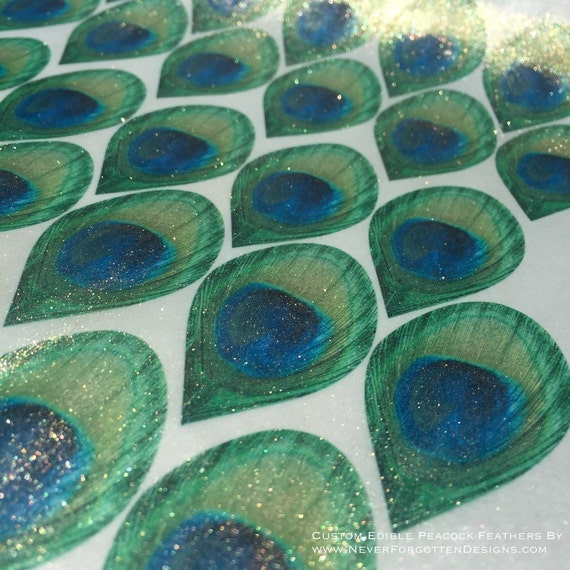 33 Edible Golden Shimmer Peacock Feathers YOU CUT OUT on Edible Wafer Paper 33 Per Sheet
By Never Forgotten Designs
Product Info
33 Edible PEACOCK FEATHERS that NEED TO BE CUT OUT to be placed on your treats, cupcakes, cookies and more!
Edible Peacock Feathers are printed on Wafer Paper with FDA approved edible ink. They are almost tasteless, similar to a communion wafer. Lay flat or stand up right! Put back to back for the ultimate look on both sides! Have a dusting of gold shimmer edible dust applied that is FDA approved for human consumption.
You will receive all the same color Peacock Feathers as shown in the first pictures of this listing. Want another color? See my instagram for color options and request that color if you want something other than traditional as seen here: http://tinyurl.com/jos687n
They will come in 2" size with 33 per 8 X 11" sheet of high quality wafer paper.
20% DISCOUNT WHEN 3 OR MORE ARE ORDERED! PUT "3ORMORE" IN THE COUPON BOX WHEN PLACING ORDER! AVAILABLE ON WAFER AND FROSTING SHEETS ONLY OF SAME DESIGN.
Created in a CERTIFIED, LICENSED & INSURED KITCHEN. Not all Etsy Shops carry the certification The Studio by Never Forgotten Designs has to ensure YOUR safety. Please, whenever purchasing edible items online, verify your provider is creating your items according to FDA standards.
THESE IMAGES NEED TO BE CUT OUT! To better preserve your product and avoid contamination I do not cut them out before mailing to you.