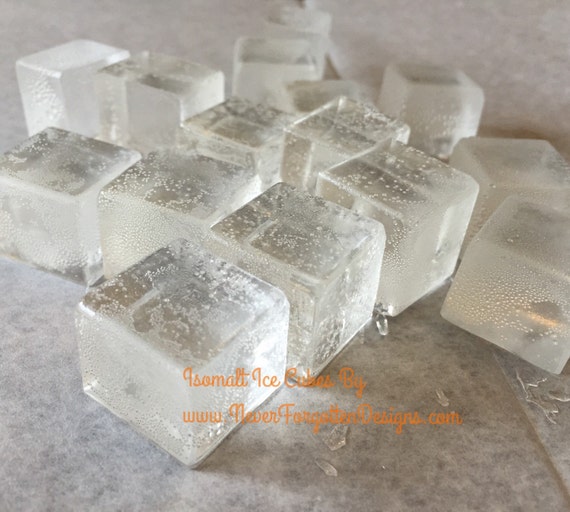 100% EDIBLE Custom Isomalt Sugar 1" Square Ice Cube Cubes for Beer Cooler Bucket Frozen Wine Cakes
By Never Forgotten Designs
Product Info
Custom Isomalt Sugar Ice Cubes Sold By The Dozen
Made in FDA Registered Food Facility and Kosher Certified
You Get: 1 Dozen Edible 1" Square Sugar Ice Cubes
Sold per dozen!... stock up for all your Father's Day & 21st Birthday Cakes!
Mailed Priority Mail within 1 Week. Need it faster? Please contact me to see if I can complete it for you for your event. Rush Order will ship within 8 Business Hours via Priority Mail. Please contact to verify this option can be done BEFORE placing order.
This product is 100% Edible, though intended for decorative purposes only.
ISOMALT INFORMATION - PLEASE READ BEFORE ORDERING
Please understand this is a sugar product and is sensitive to heat / moisture / cold and must be handled with care.
How to Store Cooked Isomalt:

Cooked Isomalt, if exposed to humid conditions, will absorb moisture from the air and become sticky. The sticky surface will eventually dry out as humidity conditions change and this sticky layer will re-solidify. Once this happens, the Isomalt will first lose its shine, then become cloudy and eventually re-crystallize – which makes it unusable. The key to storing cooked Isomalt is to protect it from humidity.
Never add water to your isomalt product as it will break it down. Keep dry, cool temperature but never warmer than room temperature.
Ice Cubes are insured against breaking in transit via USPS and wrapped with wax paper, bubble wrap and in ziplock bags to protect in shipping. In the event of breakage during shipping please bring to my attention immediately. Cubes are not warranted past delivery and it is up to you to handle / store correctly.No refunds. Please note that due to the nature of sugar art some cubes may have waves / swirls / bubbles as this is a hand created bottle made from an edible, sensitive material. Also, a very slight yellow color may appear. I try very hard to keep them as clear as possible but this is a unique, sugar craft.