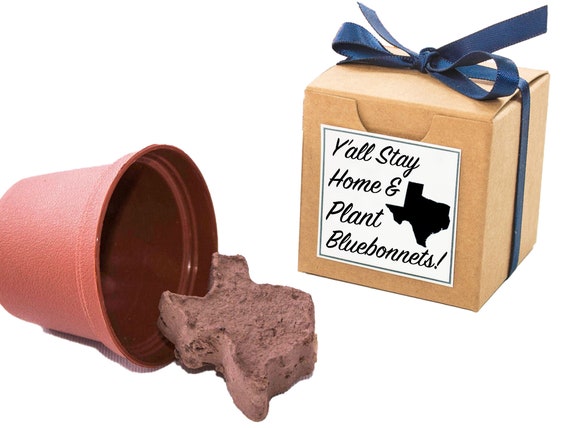 Y'all Stay Home & Plant Bluebonnets At Home Activity Garden Gift Set Kits with Texas Shape Family Activity Crafts
By Nature Favors
Product Info
Looking for a great family activity while stuck inside? Our Bluebonnet kits are a great gift to give to adults and kids or buy one for yourself and grow your own Bluebonnets at home! These work as a great learning activity! Have kids document how long it takes for the Bluebonnets grow and teach them to tend to them daily!
What's included in the kits?
- One Texas Shape filled with Bluebonnet Seeds and Soil
- One Plastic Pot
- Instructions
- One Brown Box
- One Ribbon (Of a color of your choosing)
- One Customizable Card (default design in the product image)
Fully assembled, the sets measure approximately 2" x 2" x 2".
Have your own design you want on the card? Want your kid(s)'s design on the card? We can that! Send us a picture of the design you want, and we will put the design on the card that goes on the front of the garden sets. Want a blank card to draw on yourself? We can do that too! Be sure to message us with any custom options you don't see and we would love to make you a custom set!
Personalize with your own message! (Please keep your message under 10 words to keep the graphic.)
Ship to multiple addresses for $5 per address! Contact us for more information!
Shipping for orders of $35 or more to one address is FREE!
Handmade in the USA
© 2020 by Nature Favors, all rights reserved.