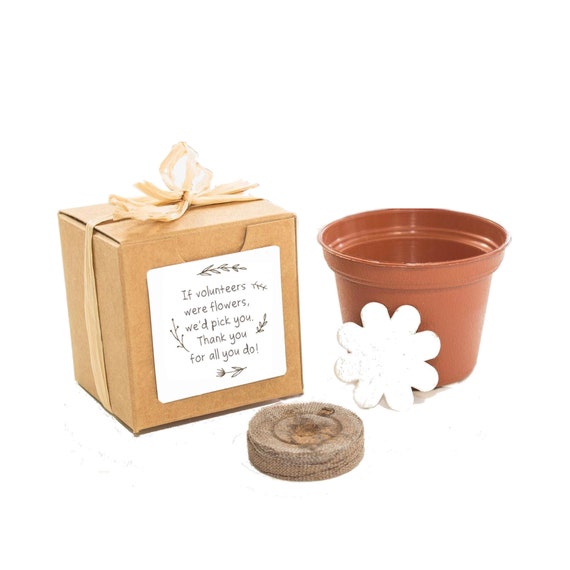 Volunteer Appreciation Gift, Small Flower Garden Planter Grow Kit Thank You Gift, Sustainable Employee Gift, Parent Volunteer Thank You Gift
By Nature Favors
Product Info
Volunteer & Staff Appreciation Thank You Gifts
* Small, sustainable thank you gifts for staff, employees, community workers and parent volunteers.
* Flowers bloom year after year!
* Easy to grow instructions included
Our mini garden seed planter kits come with everything you need to start growing your own beautiful flower garden!
What's Included?
1 each of the following:
* plantable seed paper flower shape filled with an assortment of annual and perennial flower seeds
* soil pellet
* flower pot
* gift box
* ribbon
* planting instructions
* volunteer appreciation thank you card attached to the front of the box
Size: small, 2"X2"X2"
An assortment of beautiful annual and perennial flower seeds can be found inside the plantable flower shape, including:
Zinnia,
Pinks, Sweet William
Poppy
Snapdragon
Catchfly
Daisy
Black-Eyed Susan
Five Spot
Candytuft
Baby Blue Eyes
Wallflower
Made in the USA
© 2022 by Nature Favors, all rights reserved.