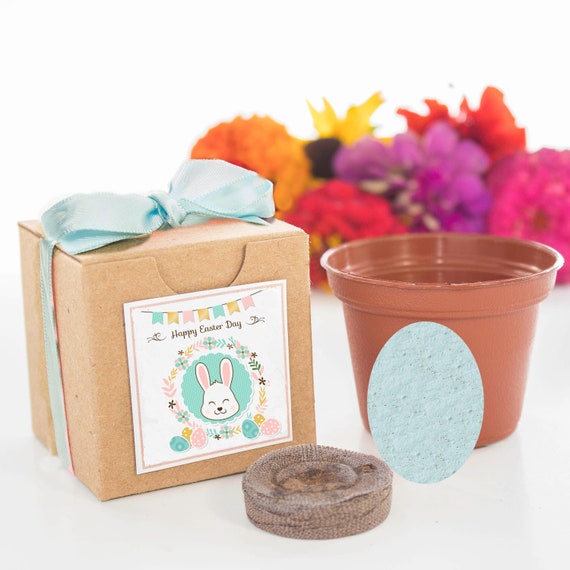 Easter Egg Flower Garden Grow Kits Gifts Boys & Girls of All Ages Easter Parties - Easter Basket Filler Easter Party Favor Gifts
By Nature Favors
Product Info
Happy Easter Party Favors with Plantable Easter Eggs are Here!
A fun, personalized Easter gift idea for kids, and boys and girls of of all ages.
Unique Easter Basket Gift Ideas
Qty: 1 Kit
Size: 2"X2"X2" (Miniature sized, but oh so adorable!)
Each kit contains everything you need to grow a beautiful flower garden, including:
(1) plantable seed paper Easter egg
(1) flower pot
(1) soil pellet
(1) gift box
(1) ribbon
(1) planting instruction
(1) personalized "Happy Easter" greeting card for the front of the box.
We're now offering the option of diy assembly to make these our garden kits even more affordable. Please make your selection from the drop down menu.
Seed Details:
A beautiful assortment of butterfly attracting annual and perennial flower seeds can be found inside the each handmade paper egg. This unique blend of seeds are proven to have the highest germination (flowering) rate throughout the US.
Zinnia,
Pinks, Sweet William
Poppy, Corn
Snapdragon, Tall Spurred, 'Northern Lights'
Catchfly
Daisy, English
Daisy, Glorios
Black-Eyed Susan
Five Spot
Candytuft, annual
Baby Blue Eyes
Wallflower, Siberian
Flax, Scarlet
Orders ship USPS with tracking number provided.
For other nature inspired party favor and gift ideas, see our store:
http://www.naturefavors.etsy.com
© 2019 by Nature Favors, all rights reserved.