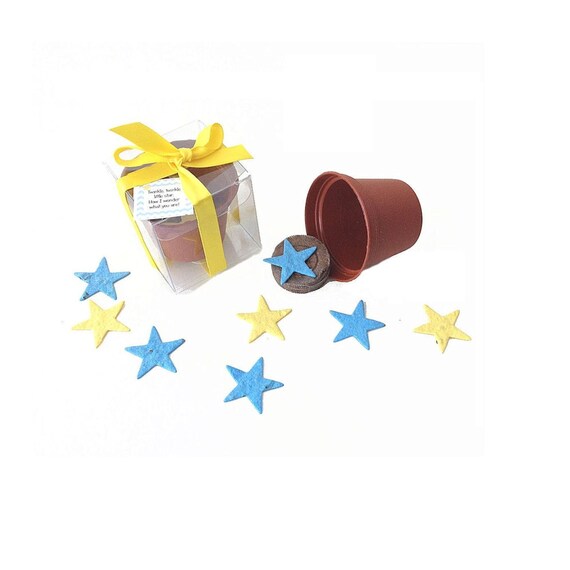 Mini Twinkle Twinkle Little Star Flower Garden Grow Kits - Personalized for Boy or Girl Star Themed Baby Showers - Star Themed Party Favors
By Nature Favors
Product Info
Mini Twinkle, Twinkle, Little Star Flower Garden Grow Kits
Great for Baby Shower Favors
The star has flower seeds inside... it grows!
Pink stars for baby girls, blue stars for baby boys, or a combination of colors for gender neutral baby showers.
Each garden kit contains everything you need to grow a beautiful garden, including the soil!
Quantity: 1 Kit
Size: 2"X2"X2"
You will receive the following with every kits purchased:
seeded star
soil pellet
flower pot
gift box
ribbon
planting instructions
personalized tag for the top of the box
How it works:
The plantable seed paper star is placed on top of the soil pellet. The pellet will expand and fill the inside of the pot with soil which brings the star to the top of the flower pot. Continue to add water daily and the flower seeds inside the star will begin to sprout in 1-2 weeks, depending on the temperature. Can be started indoors and transplanted to the garden after the last freeze.
Orders ship USPS with tracking number provided.
Handmade in the USA
© 2019 Nature Favors, all rights reserved.