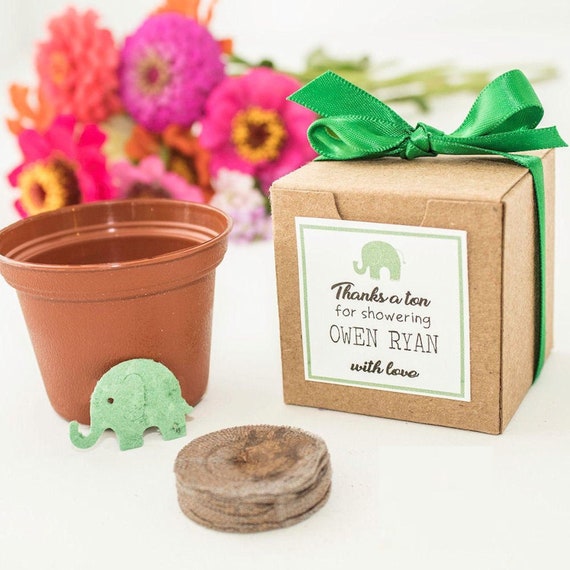 Plantable Seed Paper Elephant Mini Garden Baby Shower Favors, Baby Boy, Girl, or Gender Neutral Baby Shower Favor, Personalized Elephant Tag
By Nature Favors
Product Info
Elephant Themed Mini Flower Garden Grow Kits
* Unique, Adorable Baby Shower Favors with Flower Seeds
* Blooms in as little as 40 days!
* Perfect for boys, girls, or neutral gender baby showers
* Choose from several different color combinations
* Personalization included
Quantity: 1 Kit
Size: 2"X2"X2"
Say, "Thanks a ton!" with these precious plantable flower seed paper elephant. Your friends and family can grow a flower garden as a reminder of this special time they have shared with you and your baby. The assortment of flower seeds inside the elephant contain perennials flowers that with proper love will come back each year as your baby grows.
Featured in this listing is a sage green elephant with kelly green satin ribbon, topped off with a personalized "thanks a ton!" card attached to the front.
What's Included?
Each set comes with everything they will need to grow a beautiful flower garden, including the soil.
You will receive the following with each kit:
* 1 plantable seed paper elephant
* 1 soil pellet
* 1 flower pot
* 1 kraft brown gift box
* 1 ribbon
* 1 personalized self adhesive card for the front of the gift box
* 1 planting instruction
Now available with DIY assembly so that we may pass along some savings to our customers. See drop down menu for assembly options and pricing.
What flowers grow?
The following flower seeds can be found inside the elephant (see photo for flowers in bloom)
Zinnia,
Pinks, Sweet William
Poppy
Snapdragon
Catchfly
Daisy
Black-Eyed Susan
Five Spot
Candytuft
Baby Blue Eyes
Wallflower
Orders ship USPS with tracking number provided.
© 2019 by Nature Favors, all rights reserved.