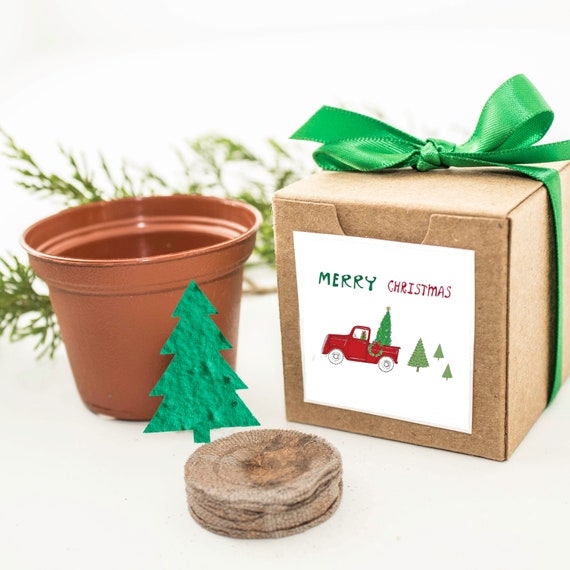 Christmas Tree Grow Kit Stocking Stuffer Gift for Men, Women, Kids, Fun Christmas Gifts & Party Favors, Small, Sustainable Entertaining Gift
By Nature Favors
Product Info
Grow a Christmas Tree!
A fun, sustainable, Christmas stocking stuffer gift idea for men, women, and kids.
It's small, making it the perfect size stocking stuffer.
It's light weight, so it can be nestled in the branches of your Christmas tree as a Christmas ornament.
Gift Ready, complete with gift box and ribbon.
Evergreen spruce seeds are inside the little plantable paper tree!
Small Size: 2"X2"X2"
Quantity: 1 Grow Kit
Great for stocking stuffers, Christmas party favors, Christmas ornaments and more!
Perfect for friends, family, coworkers, employees, and everyone one your list.
An affordable, sustainable gift they will love and cherish for years to come.
Each grow kit includes:
*plantable seed paper Christmas tree
*flower pot
*soil pellet
*gift box "Merry Christmas Tree Farm" design
*Christmas green satin ribbon
*instructions
Optional Personalization:
We can print whatever you would like in the white space beneath the red truck, however we kindly ask that you purchase a minimum of 4 grow kits.
All orders ship via USPS or FedEx with tracking # provided.
Handmade in the USA
Looking for something a little different? We have more designs to choose from, right here in our shop on Etsy! https://www.naturefavors.etsy.com/
© 2022 by Nature Favors, all rights reserved.