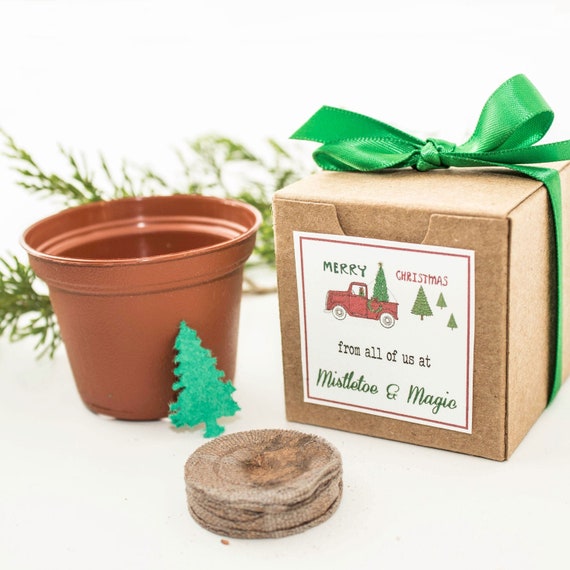 Christmas Tree Grow Kits - Plantable Paper Christmas Trees Evergreen Tree Seeds Personalized Christmas Party Favors, Gifts, Stocking Stuffer
By Nature Favors
Product Info
Mini Grow Kit Gifts with Christmas Tree Seeds
Great holiday party favors with gift boxes personalized gifts for adults and kids Christmas parties.
Evergreen tree seeds inside the handmade seed paper Christmas tree!
Our mini Christmas tree grower sets are small but their adorable size is one of the things that make them so loved!
Size: 2"X2"X2"
Quantity: 1
Great for stocking stuffers & Christmas table decorations
Perfect for friends, family, coworkers, employees, and everyone one your list.
A gift they will love and cherish for years to come.
Featured here: Red Vintage Truck with Christmas Tree Seeds
Each grow kit includes:
*plantable seed paper Christmas tree
*flower pot
*soil pellet
*gift box
*satin ribbon
*instructions
*personalized decorative card (as shown on the front of the box)
To save time, money, and allow for a fun crafting project, we're now offering our grow kits with diy assembly. Orders with diy assembly will include one set pre-assembled as an example. They aren't difficult to put together, it just takes a little time and patience. Please make the selection from the drop down menu that works best for you.
Ask about our special discounts for large quantity purchases.
All orders ship via USPS or FedEx with tracking # provided.
© 2019 by Nature Favors, all rights reserved.