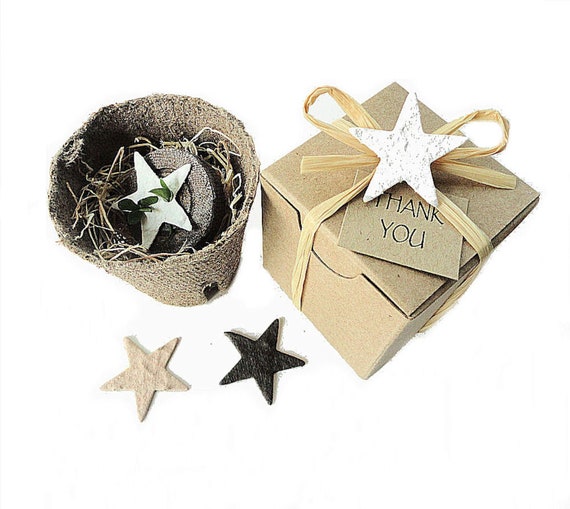 Mini Flower Garden Grow Kits | Plantable Seed Paper Star Themed Gifts Personalized for Parties, Showers, Wedding Favors
By Nature Favors
Product Info
Mini Plantable Star Flower Garden Grow Kits
Unique, Personalized Flower Seed Star Wedding Favors & Party Favors - They Grow!
Perfect for Rustic Western Themed Weddings!
Flower seeds are inside the paper star. Everything is included, even the soil!
Quantity: 1 Kit
Size: 2"X2"X2"
A unique earth friendly favor your guests will enjoy for seasons to come. Inside the box is a flower pot containing a soil pellet and a plantable star.
You will receive the following with every grow kit you purchase:
* plantable star
* flower pot
* soil pellet
* ribbon
* personalized tag with growing instructions printed on the back
(sorry, straw filler not included)
Orders ship USPS with tracking number provided.
Handmade in the USA
© 2020 by Nature Favors, all rights reserved.