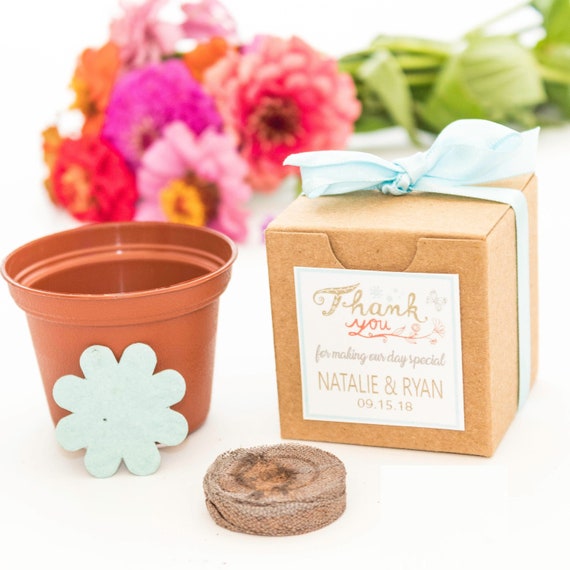 Mini Flower Garden Wedding Favors - Flower Garden Starter Kit - Customized Personalized Bride & Groom Thank You Gift - Bridal Shower Favor
By Nature Favors
Product Info
Mini Flower Garden Grow Kit -
-Customized & personalized for weddings, bridal showers, birthday parties, and more!
-The flower shape contains flower seeds!
-Comes with everything you need to get growing, including the soil.
-Save money with our new diy assembly option.
Quantity: 1 Kit
Size: 2"X2"X2"
Details:
The flower shape has enough seeds to start growing your own butterfly garden. Some of the flower seeds are perennials, so they'll continue to bloom. Each set comes with easy to follow instructions.
These flower seeds can be found inside the flower shape:
Five Spot Seeds, Candytuft Seeds, Baby Blue Eye Seeds, Scarlet Flax Seeds, Siberian Wallflower Seeds, Zinnia Seeds, Sweet William Pink Seeds, Corn Poppy Seeds, Tall Spurred Snapdragon Seeds, Catchfly Seeds, English Daisy Seeds, Gloriosa Daisy Seeds, Black-Eyed Susan Seeds
Orders ship by USPS with tracking number provided.
© 2019 by Nature Favors, all rights reserved.