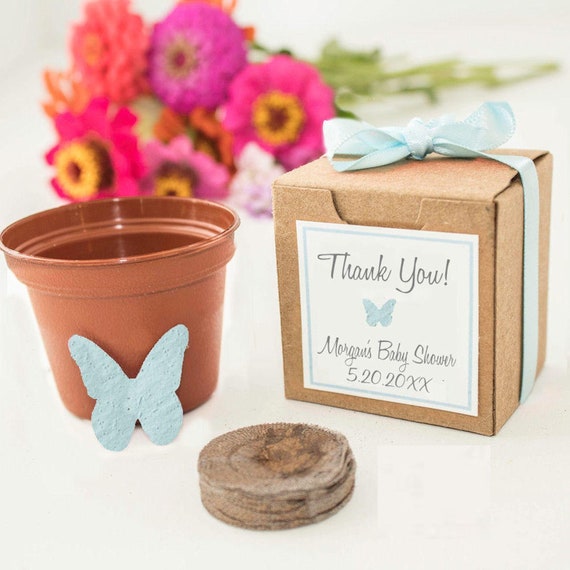 Butterfly Baby Shower Favors Personalized for Boy, Girl, or Gender Neutral Baby Showers, Unique Customizable Mini Growing Kit Shower Gifts
By Nature Favors
Product Info
Butterfly Baby Shower Favor - Mini Flower Garden Kits
* Unique, Adorable Baby Shower Seed Favors
* Blooms in as little as 40 days!
* Perfect for boys, girls, or neutral gender baby showers
* Customizable with your choice of colors and seed blend.
* Personalization included!
* Plus FREE shipping for a limited time!
Quantity: 1 Kit
Precious plantable seed paper butterfly garden sets for friends and family to grow as a reminder of this special time they have shared in celebrating your baby's birth.
Assembled Size: 2"X2"X2"
What's Included?
Each set comes with everything your guests will need to get growing!
* plantable seed paper butterfly
* soil pellet
* flower pot
* gift box
* ribbon
* personalized cards for the front of the gift boxes
* planting instructions
+ Orders with diy assembly will receive 1 set that is pre-assembled as an example for you to go by.
How does your garden grow?
Soak the butterfly in water for 12 hours. Add water to the soil pellet, allowing it to expand and fill the inside of the pot. Place the butterfly in the flower pot and cover 1/8" with soil. Water daily, taking care to keep the seed paper moist but not over saturated.
Our unique flower seed blend contains a beautiful assortment of butterfly attracting flower seeds that with proper love will come back each year as your baby grows.
The following butterfly attracting flower seeds that can be found inside the seed paper butterfly!
Zinnia,
Pinks, Sweet William
Poppy, Corn
Snapdragon, Tall Spurred, 'Northern Lights'
Catchfly
Daisy, English
Daisy, Glorios
Black-Eyed Susan
Five Spot
Candytuft, annual
Baby Blue Eyes
Wallflower, Siberian
Flax, Scarlet
Shipping:
Orders ship USPS with tracking numbers provided.
Looking for something different? Be sure and check out our store for more options or contact us so that we can create a custom listing to fit your needs.
http://www.naturefavors.etsy.com
© 2019 by Nature Favors, all rights reserved.