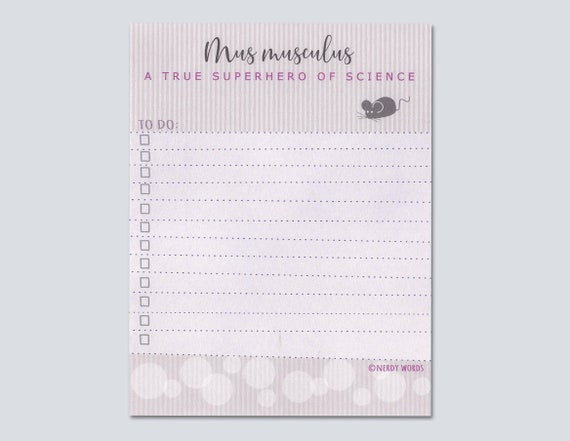 Mus musculus TO DO LIST Notepad | Super Hero Of Science | Biology Psychology | Teacher, Student, Scientist, Professor Lab Mouse Stationary
By Nerdy Words
Product Info
Mus Musculus To Do List Notepad - Lab List - Stationary - Thesis Organizer.
The lab mouse... where would we be without these little superheroes of science?!? Biology, psychology, genetics, biochemistry, immunology... the list goes on and on. Use this little notepad to organize your experiments, thesis and your life... as we all know, the "To Do" list never ends!
This notepad is part of my "SUPERHERO OF SCIENCE" series of stationary and art. Each to-do notepad contains 48 identical pages featuring a whimsy Mus musculus design with boxes to check off each point one-by-one (plain lined notepad is also an option). You can find more science notepads here:
Periodically Genius: https://etsy.me/33tuLlP
Gel Electrophoresis: https://etsy.me/2OyUxRp
Drosophila melanogaster (fruit fly): http://etsy.me/2dawYP1
E. coli: http://etsy.me/2duEL9V
C. elegns: http://etsy.me/2dd5oxR
Zebrafish: https://etsy.me/33xxjiL
Original design and illustration by Christine Snyder. All rights reserved.
NOTEPAD SPECIFICATIONS:
- Pad Size: 4.25"" (10.5 cm) X 5.5" (14 cm)
- 48 pages
- Honey-colored glue binds the pad together
- Backed on thick kraft cardstock
- Packaging is certified compostable (cello bag made from plants!)
- Designed and printed in Canada
► WHEN WILL I RECEIVE MY ORDER:◄
-----------------------------------------------------------------------------------
IMPORTANT NOTE: Standard shipping DOES NOT include a TRACKING NUMBER, but all shipping upgrades do.
** NOTE: These are the regular shipping time estimates from Canada to MAJOR URBAN CENTERS, but during the holiday seasons there will be delays so please take this into consideration. For rural or remote locations, please factor in a few extra days.
STANDARD SHIPPING
Shipping within Canada - 2-8 business days**
Shipping to USA - 5-8 business days**
All other countries - 6-11 business days**