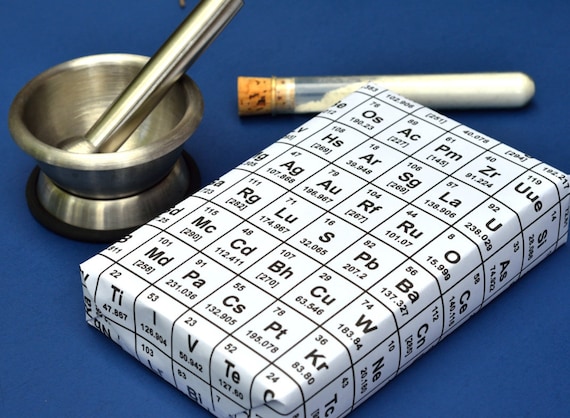 Chemistry / Science-Themed Gift Wrap (Periodic Table of Elements, Folded Flat 24" x 72")
By Nerdy Words
Product Info
Our periodic table wrapping paper is the perfect choice for scientists and science enthusiasts! The highly versatile design makes it an excellent option for wrapping any gift, whether for graduation, retirement, birthdays, Christmas, Valentine's Day, baby showers or teacher gifts.
Our gift wraps are uncoated and 100% recyclable. Our paper weights measure 4 pt or higher, which greatly reduces accidental tearing.
The paper measures 24" wide and 72" long (2 feet x 6 feet = 12 square feet total). It comes in a large sheet, folded and shipped flat.
Made in Canada. Copyright Nerdy Words Inc.