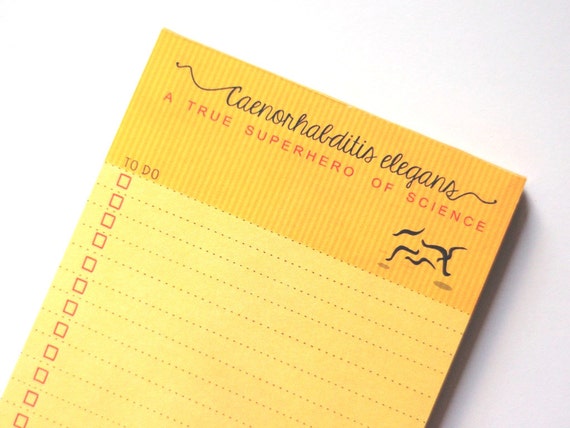 C. elegans TO DO LIST Notepad | A True Superhero Of Science | Biology Chemistry | Teacher, Friend, Student, Scientist, Professor, Engineer
By Nerdy Words
Product Info
C. elegans (Roundworm) To Do List Notepad - Lab List - Stationary - Thesis Organizer.
It was 1963 when this nematode was established as a fantastic model organism for the study of neural development and since then it has played a pivotal role in research of apoptosis, RNAi (RNA interference), meiosis, aging and countless aspects of neural development. Use this little notepad to organize your experiments, thesis and your life... as we all know, the "To Do" list never ends!
This notepad is part of my "SUPERHERO OF SCIENCE" series of stationary and art. Each notepad contains 48 identical pages featuring a whimsy C. elegans design with boxes to check off each point one-by-one. You can find more science notepads here:
Periodically Genius: https://etsy.me/33tuLlP
Gel Electrophoresis: https://etsy.me/2OyUxRp
Mus musculus (lab mouse): https://etsy.me/2L9u4I2
Drosophila melanogaster (fruit fly): http://etsy.me/2dawYP1
E. coli: http://etsy.me/2duEL9V
Zebrafish: https://etsy.me/33xxjiL
Original design and illustration by Christine Snyder. All rights reserved.
NOTEPAD SPECIFICATIONS:
- Pad Size: 4.25"" (10.5 cm) X 5.5" (14 cm)
- 48 pages
- Honey-colored glue binds the pad together
- Backed on thick kraft cardstock
- Packaging is certified compostable (cello bag made from plants!)
- Designed and printed in Canada
► WHEN WILL I RECEIVE MY ORDER:◄
-----------------------------------------------------------------------------------
IMPORTANT NOTE: Standard shipping DOES NOT include a TRACKING NUMBER, but all shipping upgrades do.
** NOTE: These are the regular shipping time estimates from Canada to MAJOR URBAN CENTERS, but during the holiday seasons there will be delays so please take this into consideration. For rural or remote locations, please factor in a few extra days. If you select a shipping upgrade, please provide a phone number during checkout in the Notes to Seller section.
STANDARD SHIPPING
Shipping within Canada - 2-8 business days**
Shipping to USA - 5-8 business days**
All other countries - 6-11 business days**
SHIPPING UPGRADES:
--------------------------------
TRACKING NUMBER
USA - 5-8 business days
EXPEDITED SHIPPING
Canada - 4-5 business days**
USA - 4-5 business days**
XPRESSPOST (signature required!)
Canada - 3 business days
USA - 4 business days, guaranteed
International - 4-7 business days
PRIORITY
Canada - 1-2 business days