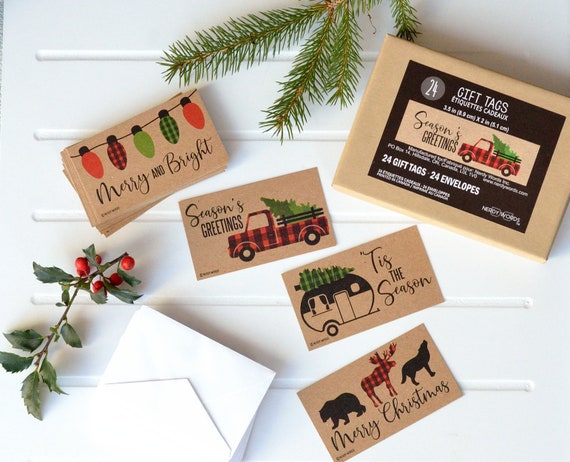 Set of 24 Kraft Buffalo Plaid Retro Red Christmas Pickup Truck, RV Camper & Woodland Animal Gift Tags for the Holidays
By Nerdy Words
Product Info
Your family and friends will love these trendy little Christmas tags. Card designs include a red vintage pickup truck, retro RV camper trailer, woodland animals (moose, wolf, bear) and a string of Christmas lights all with buffalo plaid accents. They are perfect for handing out to classmates, colleagues, friends and family! These gift tags (24 in total - 4 designs, 6 of each) are printed on high quality kraft cardstock (90% post-consumer recycled paper). They are wallet sized (2" x 3.5") and come with mini envelopes. Packaged in kraft gift box (made of 95% recycled material).
CARD DESIGNS:
- Retro red Christmas pick-up truck
- Vintage RV camper trailer
- Merry and Bright string of Christmas lights
- Moose, wolf, bear silhouettes
CARD SPECIFICATIONS:
- Card Size: 2" (5 cm) X 3.5" (9 cm) printed on kraft cardstock
- Each package comes with 24 mini holiday cards (4 designs, 6 of each)
- Each package comes with 24 mini white envelopes
- Designed and printed in Canada
Cards are designed by Nerdy Words Inc. All rights reserved.