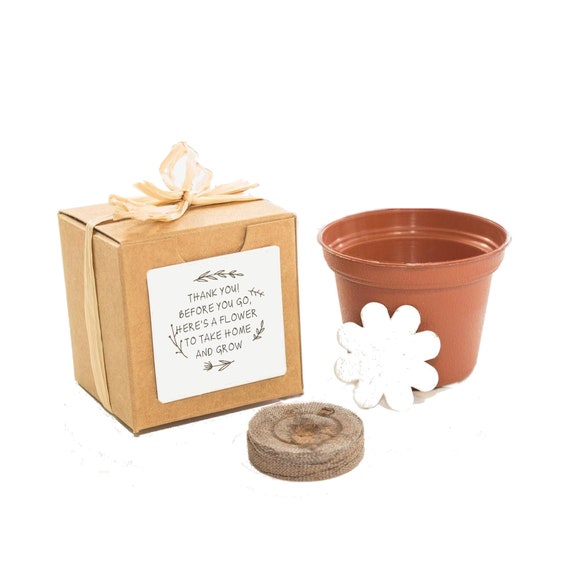 Mini Flower Garden Growing Kit - Thank You Gift - Wedding Favor, Bridal Shower Favor, Baby Shower Favor, Birthday Party Favors, Appreciation
By Nature Favors
Product Info
Mini Flower Garden Growing Kit
Make great:
wedding favors
bridal shower favors
baby shower favors
birthday party favors
volunteer appreciation gifts, and more!
Personalize with your own message! (Please keep your message under 10 words to keep the graphic.)
Comes with everything you need to growing, including the the soil.
Size: 2" X 2"X 2"
Quantity: 1 Kit
What's Included?
Each set comes with everything your guests will need to get growing!
* plantable seed paper flower
* soil pellet
* flower pot
* gift box
* ribbon
* personalized cards for the front of the gift boxes
* planting instructions
How does your garden grow?
Soak the star in water for 12 hours. Add water to the soil pellet, allowing it to expand and fill the inside of the pot. Place the star in the flower pot and cover 1/8" with soil. Water daily, taking care to keep the seed paper moist but not over saturated.
Orders ship by USPS with tracking numbers provided.
© 2019 by Nature Favors, all rights reserved.