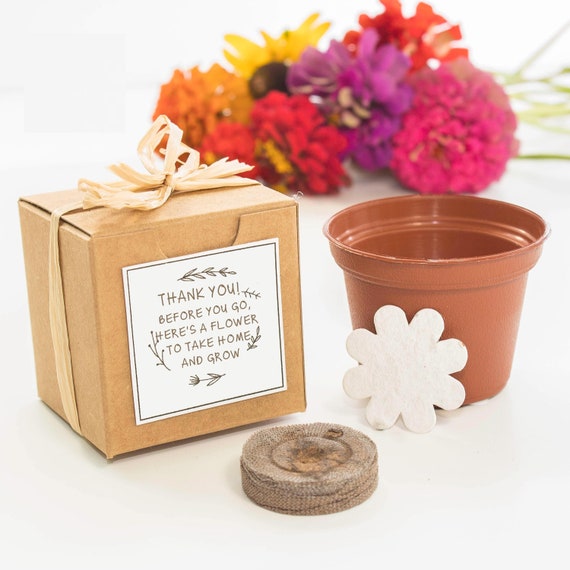 Mini Flower Garden Growing Kit - Thank You Gift - Wedding Favor, Bridal Shower Favor, Baby Shower Favor, Birthday Party Favors, Appreciation
By Nature Favors
Product Info
Mini Flower Garden Growing Kit
Make great:
wedding favors
bridal shower favors
baby shower favors
birthday party favors
volunteer appreciation gifts, and more!
A beautiful assortment of butterfly attracting flower seeds are inside the flower shape... they grow!
Comes with everything you need to growing, including the the soil.
Size: 2" X 2"X 2"
Quantity: 1 Kit
What flower seeds are inside the flower shape?
An assortment of annual and perennial flower seeds, including:
Five Spot, Candytuft, Baby Blue Eyes, Scarlet Flax, Siberian Wallflower, Zinnia, Sweet William Pinks, Corn Poppy, Tall Spurred Snapdragon, Catchfly, English Daisy, Gloriosa Daisy, Black-Eyed Susan
We're now offering the option of diy assembly to save money. Simply, choose the option that best suites your needs.
Orders ship by USPS with tracking numbers provided.
© 2019 by Nature Favors, all rights reserved.