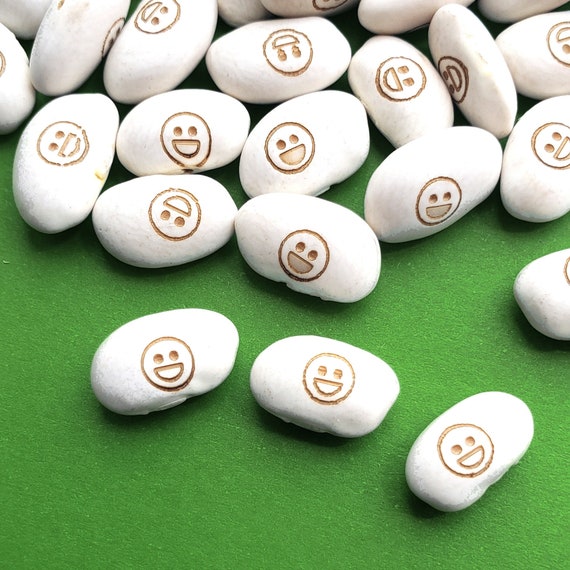 Laser Cut Engraved Magic Beans | Happy Face Design that Grows On The First Set of Leaves The Sprout | Class Handout, Graduation, Summer Fun
By Nerdy Words
Product Info
Fun "magic beans" with engraved happy faces (2-sided). Not only are the seeds engraved, but as the bean grows, the happy face will appear on the first leaves that emerge from the plant (the "cotyledons")! So much fun!
Please note that eventually these early leaves will shrivel as new leaves emerge (these newer leaves will not have the design).
🌱 PLANTING INSTRUCTIONS:
1. Plant beans approximately 1-1.5" deep in well-drained soil.
2. Place pot in a warm sunny location and water immediately and then regularly to keep the soil moist.
* If soil is unavailable, the beans can also be planted in a damp paper towel in a plastic bag, or even in damp cotton balls that are regularly watered.
🌱 IMPORTANT NOTES:
Make sure to store the seeds in a cool, dark & dry location prior to planting. These beans have a very high planting success rate, however, if they are to be used as a gift, we recommend providing at least 2-3 beans to the recipient to prevent disappointment in case of a "defective" bean.