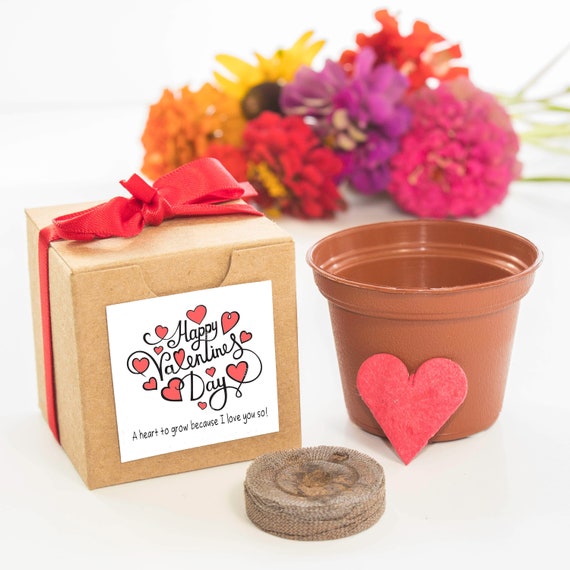 Love Grows | Flower Garden Starter Kit | Valentine's Day Gifts & Party Favors | Personalized Valentine's Day Card | Unique Valentine Gift
By Nature Favors
Product Info
"Let Love Grow" Mini Heart Themed Flower Garden Grow Kit
Personalized Happy Valentine's Day Gifts & Party Favors
Give the gift of a flower garden for Valentine's Day!
A Valentine's Day gift boys, girls, and kids of all ages will enjoy, including adults.
Each set includes a "Happy Valentine's Day" card attached to the front that can be personalized.
Choose the assembly option that best suites your needs.
Quantity: 1 Kit
Size: 2"X2"X2"
The heart has flower seeds inside and comes with everything you need to start growing a beautiful flower garden, including the soil.
Each set includes one each of the following:
* plantable seed heart
* soil pellet
* flower pot
* gift box
* red ribbon
* instructions
* Happy Valentine's Day card for the front of the box with optional personalization.
The following flower seeds can be found inside the heart:
Zinnia,
Pinks, Sweet William
Poppy, Corn
Snapdragon, Tall Spurred, 'Northern Lights'
Catchfly
Daisy, English
Daisy, Glorios
Black-Eyed Susan
Five Spot
Candytuft, annual
Baby Blue Eyes
Wallflower, Siberian
Flax, Scarlet
Orders ship by USPS with a tracking number provided.
Be sure and check out our store for other unique nature inspired party favor gift ideas.
http://www.naturefavors.etsy.com
© 2018 by Nature Favors, all rights reserved.