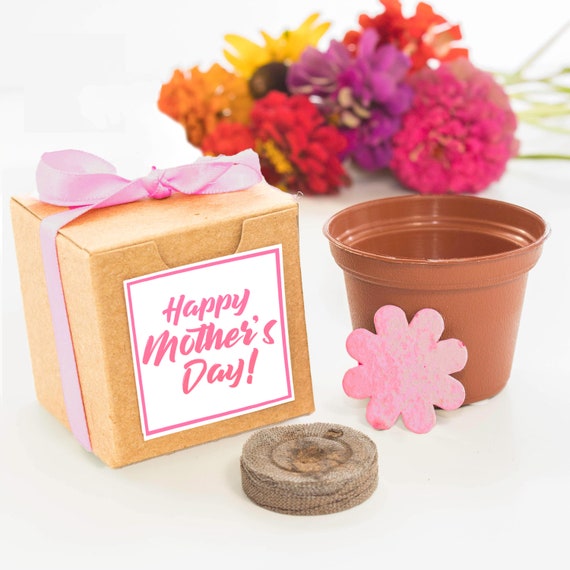 Happy Mother's Day Garden Set with Pink Flower Perfect Gift for Mom, Mother-in-Law, and Grandma with Personalized Message from You
By Nature Favors
Product Info
"Happy Mother's Day" Garden Kit with Flower Seeds
Tell mom how special she is to you and ship this garden set directly to her! Personalization is now available! Add your personalized message beneath the Happy Mother's Day graphic! If you choose not to personalize, the card will come with just the graphic and pink border. (Please keep your message under 10 words to keep the graphic.)
Each grow kit includes 1 each of the following:
- strawberry pink plantable flower shape with wildflower seeds
- plastic flower pot
- soil pellet
- brown gift box
- pink ribbon
- planting instructions
- card for the front of the box
How does your garden grow?
Soak the shape in water for 12 hours. Add water to the soil pellet, allowing it to expand and fill the inside of the pot. Place the shape in the flower pot and cover 1/8" with soil. Water daily, taking care to keep the seed paper moist but not oversaturated. Our unique flower seed blend contains a beautiful assortment of butterfly-attracting flower seeds that with proper love will come back each year.
Each set measures 2"X 2"X 2"
Handmade in the USA.
© 2020 by Nature Favors, all rights reserved.