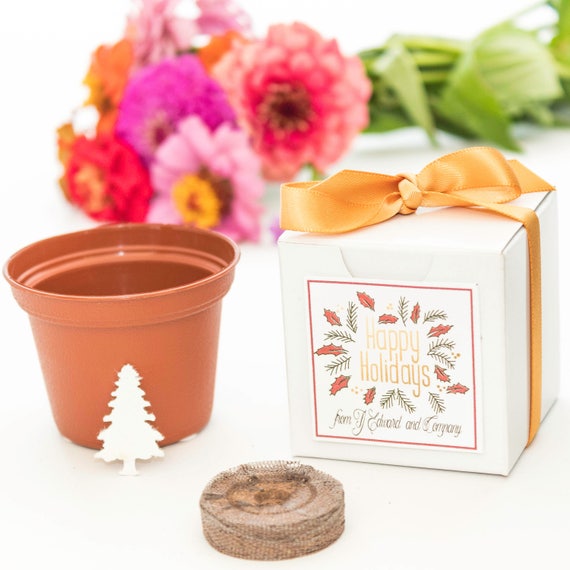 Mini "Grow A Tree" Garden Gift Set Holiday Party Favors, Unique Personalized Gift Idea "Happy Holidays" Gift Box, Bulk, Quantity Discounts
By Nature Favors
Product Info
Mini Grow a Tree Garden Gift Set
Personalized & Customized for Holiday Gift Giving
100% Biodegradable & Eco Friendly
Great for company Christmas parties, winter weddings, holiday party favors and more!
Now available with flower and herb seeds
(Trees with herb seeds are available in white only)
Quantity: 1 Kit
These adorable mini tree garden gift sets come with everything you'll need to grow:
(1) plantable seed paper trees
(1) flower pot (also available in biodegradable paper upon request)
(1) soil pellets
(1) white gift box
(1) gold ribbon
(1) instructions
(1) personalized cards for the front of the box
Assembled Size: 2"X2"X2"
Order Options:
We're now offering the option of diy assembly so that we may pass along additional savings to our customers. Please make the selection that works best for you.
Seed Choices:
Now available with your choice of tree, herb, or flower seeds
tree seed: evergreen spruce tree
herb seed: parsley, basil, and chives
flower seed: Zinnia, Pinks, Sweet William Poppy Snapdragon Catchfly Daisy Black-Eyed Susan Five Spot Candytuft
Baby Blue Eyes Wallflower
© 2018 by Nature Favors, all rights reserved.