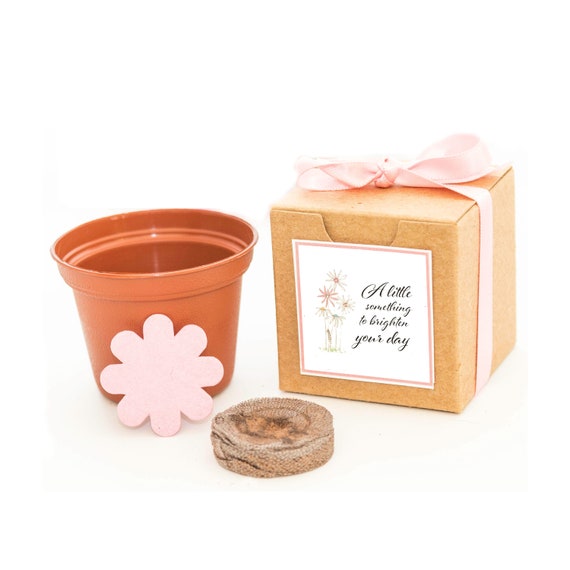 Flower Seed Grow Kit , A Little Something Special to Brighten Their Day, Fun Indoor/Outdoor Garden Activity Gift with Flower Seeds to Grow
By Nature Favors
Product Info
Flower Garden Grow Kit Gift, the Perfect Way to Brighten Anyone's Day!
Make it Meaningful with a Gift to Love, Nurture, and Grow!
Gift Ready. Shipped Directly to Friends, Family, Coworkers, or Employees at Home.
Makes for a great indoor/outdoor garden activity for all ages.
Each flower contains an assortment of annual and perennial flower seeds, meaning some of the flowers will continue to bloom each year.
Simple, easy to follow instructions included!
Comes with everything you need to begin growing your own flower garden, including the soil.
Size: 2"X2"X2" (Yes, they are small but their adorable size is one of the many things our customers love about them!)
Quantity: 1 Kit
Each grow kit includes:
* plantable seed paper flower
* soil pellet
* flower pot
* gift-ready gift box with ribbon and "A little something to brighten your day" box front, as seen in the featured photo.
* planting instructions
Flower Seed Mix Includes:
Zinnia,
Sweet William Pinks,
California Poppy,
Snapdragon,
Catchfly,
Daisy,
Black-Eyed Susan,
Five Spot,
Candytuft,
Baby Blue Eyes,
and Wallflower Seeds
Orders ship by USPS with tracking numbers provided.
© 2021 by Nature Favors, all rights reserved.