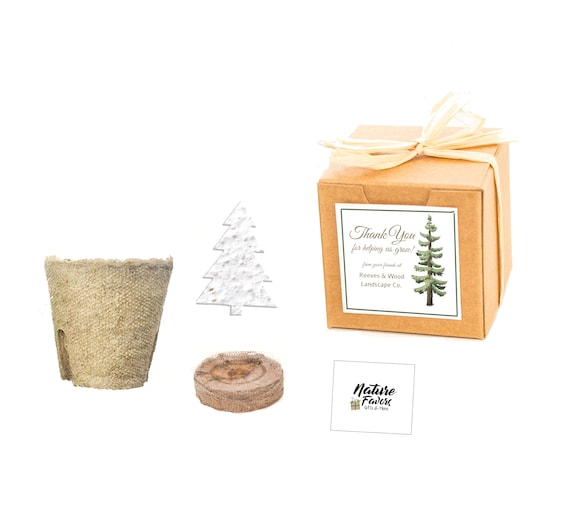 Tree Seed Gifts, Small Sustainable Thank You Gifts for Clients, Gift-Ready Holiday Party Favor, Biodegradable, Earth Friendly Tree Seed Gift
By Nature Favors
Product Info
Grow a tree! Small, sustainable thank you gifts for clients and customers to love, nurture, and grow.
100% Customizable, with the option to include your company's business logo.
Comes with everything you need to grow a tree, including pot, soil, and easy to follow instructions.
Quantity: 1 Grow Kit
Size: 2"X2"X2", Small (small enough to fit in the palm of your hand)
Seed Type:
Evergreen Spruce Tree
Each kit includes:
* a plantable tree shape with tree seeds inside
* pot
* soil
* planting instructions
* gift box
* ribbon
* front design: "Thank you for helping us grow!"
Optional Personalization:
We can print whatever you would like in the white space beneath the red truck, however we kindly ask that you purchase a minimum of 4 grow kits.
Shipping:
For a limited time, enjoy free shipping with the purchase of 4 or more grow kits.
All orders ship via USPS or FedEx with tracking # provided.
Handmade in the USA
Looking for something a little different? We have more designs to choose from, right here in our shop on Etsy! https://www.naturefavors.etsy.com/
© 2022 by Nature Favors, all rights reserved.