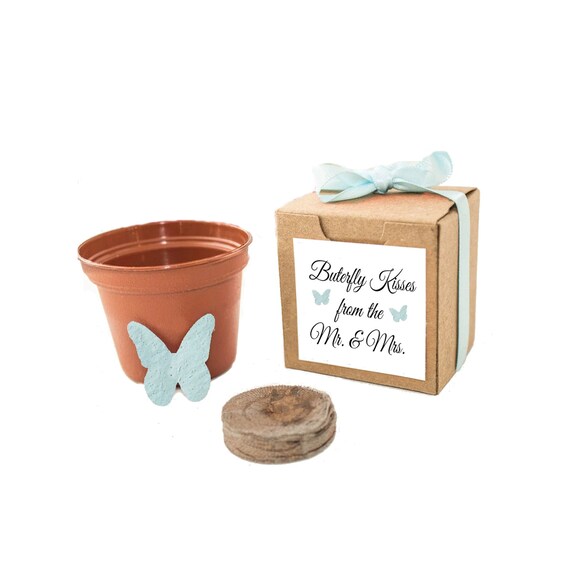 Butterfly Flower Seed Garden Wedding Favors, Bridal Shower Favors, Wedding Table Decor, Outdoor Weddings, Unique, Sustainable Favors, Gifts
By Nature Favors
Product Info
Butterfly Kisses Flower Seed Garden Wedding Favors
* Sustainable wedding favors to love, nurture, and grow!
* Flowers bloom in as little as 40 days, and continues to bloom year after year.
* Choose from an assortment of beautiful butterfly and ribbon colors.
* Now available with 100% biodegradable pots & more gift box colors to choose from.
Size: 2"x2"X2" (They are small, but that is one of the many things our customers love about them!)
Plantable seed paper butterfly garden kits for friends and family to grow.
What's Included?
Each garden set comes with everything your guests will need to get growing!
* plantable seed paper butterfly, filled with an assortment of beautiful blooming flower seeds
* soil pellet
* flower pot
* gift box
* ribbon
* "Butterfly Kisses from the Mr. & Mrs." card design for the front of the gift boxes
* planting instructions
Our unique flower seed blend contains a beautiful assortment of butterfly attracting flower seeds that with proper love will come back each year as a special reminder of the memories made on your wedding day.
Shipping:
Orders ship USPS with tracking numbers provided.
Looking for something different? Be sure and check out our store for more options or contact us so that we can create a custom listing to fit your needs.
http://www.naturefavors.etsy.com
Handmade in the USA
© 2021 by Nature Favors, all rights reserved.