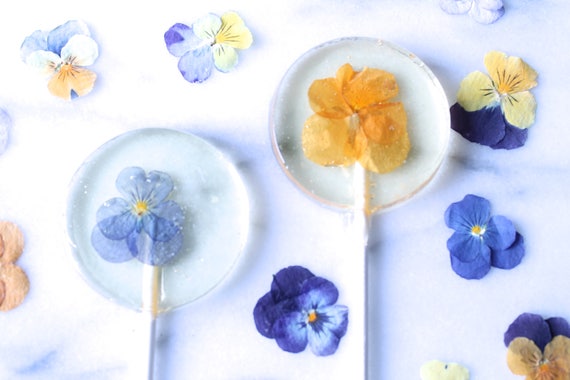 Viola Pansy Flower Lollipops 8 PCS 2 Sizes
By sweetniks
Product Info
Edible flower lollipops are perfect hostess gifts for weddings,bridal showers, engagement parties and more.
Viola Pansy lollipops are available in 2 sizes 1 1/4" and 2 1/4"
You will receive a 8 lollipops individually wrapped in a cello bag with a ribbon. They will include a variety of viola flowers
Lollipops are made using organic edible Viola flowers.
They will have a slightly more yellow hue than depicted in the photo since sugar caramelizes at high temperatures.
Shelf life is from 2 to 4 weeks
If you would like larger orders please send a message
Orders are shipped USPS which takes 2 to 3 business days.
These images were created by sweetniks and added to Sweetniks Collection June 2014
"Copyright © June 2015 by Sweetniks. All rights reserved. Contact sweetniks.etsy.com for permission to reproduce, store or transmit, or to make other similar uses of this image.
Specify the date needed and any other information in the "notes to the seller section"
Orders are generally shipped via USPS Priority Mail, where in most cases the expected delivery date will reflect a delivery time of 1, 2, or 3 business days, and is based on origin, destination, and drop-off time. The expected delivery date does not come with a money-back guarantee.
If your order is time sensitive it is recommended that you consider using USPS Priority Mail Express service, which provides for overnight delivery, with limited exceptions.
Please see www.usps.com for details regarding each of the above-referenced USPS mail services."