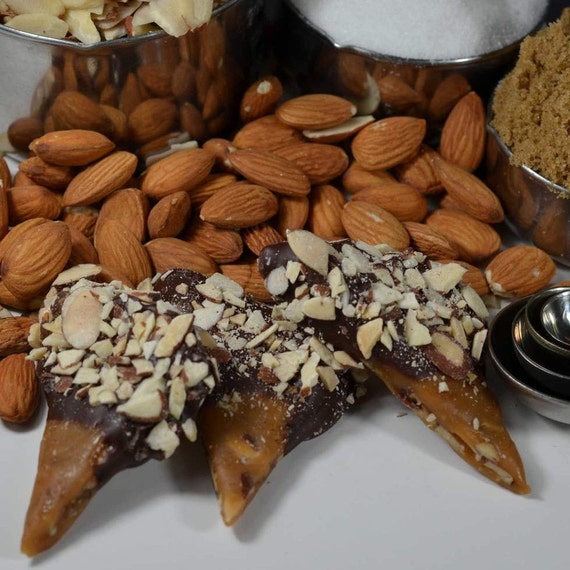 Product Info
So what do YOU call it? English Toffee, Butter Toffee, Butter Crunch, or just plain Toffee?
All we know is that when you combine the buttery sweet taste of toffee...rich Belgian chocolate...and toasted Pecans or Almonds you've got the best of all possible worlds (at least when it comes to confections!)
At Napa Valley Chocolate Company we always make our English Toffee in small batches using plenty of butter, brown sugar and toasted nuts. This enables us to make sure that the Toffee is always crisp with just the right crunch...never too hard and never too soft. Then we score the Toffee into wonderful bite size triangles and dip them in rich Belgian Chocolate.
Are you hungry yet?
Every order guaranteed fresh...we don't make it until you order it!
PLEASE NOTE: Our SPECIAL WARM WEATHER SHIPPING includes an EverCold "ice" pack and reflective film insulation to insure your order remains cool and safe from the summer heat!
At a glance...your English Toffee order...
Will always be handcrafted in small batches...to insure freshness
Will use only sustainably farmed 54% Belgian Dark Chocolate
Will use only sustainably farmed almonds and pecans
Will use only 100% Organic Butter
Will use only 100% Pure Cane Dark Brown Sugar
Will use only 100% Pure Cane Sugar
Will be packaged and sealed in eco-friendly cellophane bags to keep your order fresh
Will be boxed in our in our Gold Foil Signature Gift Box...perfect for friends and family gift giving
Call it whatever you like...English Toffee, Butter Toffee, Butter Crunch, or just plain Toffee...but, let Napa Valley Chocolate Company be your Personal Chocolatier.
Join us on:
Facebook: https://www.facebook.com/nvchocolate/
Twitter: https://twitter.com/napachocolateco
Pinterest: https://www.pinterest.com/nvchocolateco/
Instagram: https://instagram.com/napavalleychocolateco/-
707-815-2963
[email protected]