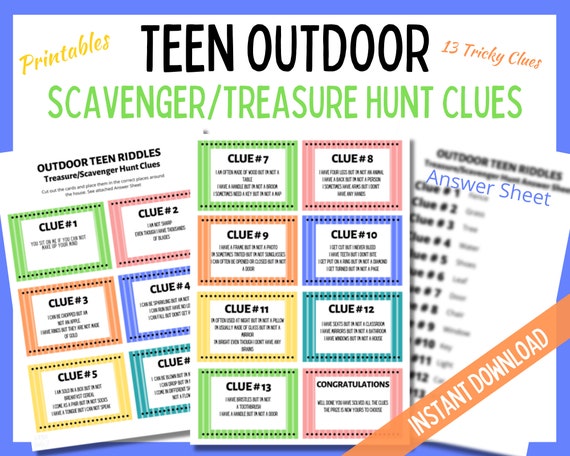 Teen Scavenger Hunt, Treasure Hunt, Outdoor Clues, Teen Clues, Birthday Scavenger Hunt, Birthday Treasure Hunt, Teen Games, Instant Download
By Little HaloJ
Product Info
Teen Outdoor Treasure/Scavenger Hunt Riddles
Teen Scavenger Hunt - Treasure Hunt Clues: Cut out the clues and place them outside around the yard. Watch as your Teen works them out and solves the riddle, these are a little tricky but worth the effort.
Download and print off these 13 Teen Outdoor Treasure Hunt cards.
Backyard Scavenger Hunt / Backyard Treasure Hunt Clues get outdoors and find/solve the riddles
Teens will love these to use for Birthday, Easter, Family get togethers, friends over, if they are still big kids at heart or having a party and want to have a little fun.
What about a birthday scavenger hunt and leave a trail of presents around the house, so many ideas you can use these riddles for. Get creative and make a few clues yourself.
We have supplied the answer sheet so you can easily place the gifts or surprises around the garden.
What a great idea to for teens to have a little fun. Entertain them over the holidays, perfect for Halloween, Thanksgiving, Christmas and Easter and sleepover/slumber parties.
The 13 clues come as a pdf, (in a zip file which you need to extract to get the pdf's) then you can print them off. You could also laminate them and use them over and over.
They come in A4 size and also US letter size 8.5" x 11"
----------------------------------
We have other Teen Treasure/Scavenger Hunts available:
⭐ Teen Treasure Hunt - https://etsy.me/3mP0Qkm
⭐ Teen Riddles Treasure Hunt - https://etsy.me/3qOIxNE
⭐ Tween Treasure Hunt - https://etsy.me/3pJvqhg
or buy the bundle:
⭐ Bundle - Teen, Tween and Kids Treasure Hunt/Riddles: https://etsy.me/3qGJojg