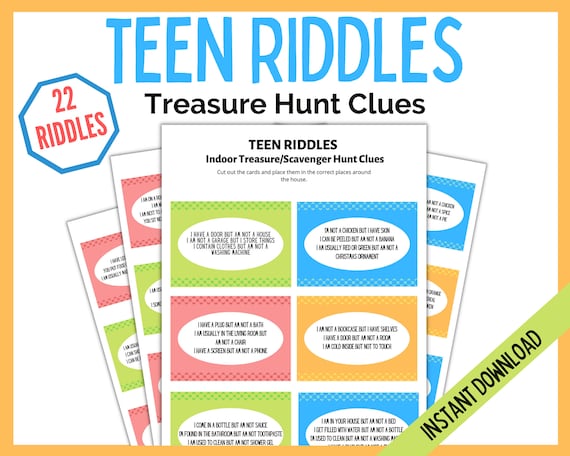 Teen Riddles, Teen Treasure Hunt, Teen Scavenger Hunt, Indoor Clues, Teen Clues, Birthday Treasure Hunt, Birthday Scavenger Hunt, Teen Games
By Little HaloJ
Product Info
22 Teen Indoor Treasure/Scavenger Hunt Riddles
Teen Scavenger Hunt - Treasure Hunt Clues: Cut out the clues and place them around the house. Watch as your Teen works them out and solves the riddle, some may be a little tricky but worth the effort. These can be a little difficult but perfect for teens and adults.
Download and print off these 22 Teen Indoor Treasure Hunt cards. Plus 2 blank cards to make up your own riddles
Indoor Scavenger Hunt / Treasure Hunt Clues find/solve the riddles
Teens will love these to use for Birthday, Easter, Family get togethers, friends over, if they are still big kids at heart or having a party and want to have a little fun
What about a birthday scavenger hunt and leave a trail of presents around the house, so many ideas you can use these riddles for. Get creative and make a few clues yourself.
We have supplied the answers above each card, so you can easily place the gifts or surprises around the house.
What a great idea for teens to have a little fun.
The 22 clues come as a pdf, then you can print them off. You could also laminate them and use them over and over.
They come in A4 size and also US letter size 8.5" x 11" pdf's
⭐ These riddles are different from our other very popular Teen Riddles so why not buy both and you will have a total of 35 tricky riddles for your teens to solve.
This is the other listing: https://www.etsy.com/nz/listing/985617219/teen-scavenger-hunt-treasure-hunt-teen
----------------------------------
THIS IS A DIGITAL DOWNLOAD No physical item will be mailed to you.