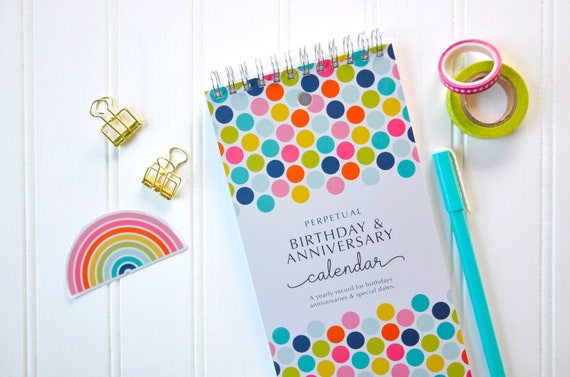 Rainbow Perpetual Birthday & Anniversary Calendar, Perpetual Calendar, Birthday Reminder Calendar, Birthday Tracker, Special Events, Dates
By The Speckled Duck
Product Info
Here at the Polkadot Paper Company, you already know that we really love being there for those who are important to you, even when you can't be there in person. Birthdays are no exception! Everyone has one, and chances are, everyone appreciates it when you remember their special day. It's the ONE day they get that's all about them, so let's help make it special by using a birthday tracker to remind us that their day is coming up!
A charming Dutch invention, the perpetual calendar is a fun and beautiful way to keep track of important dates like birthdays, anniversaries, and special holidays. Since it's printed on sturdy and luxurious card stock, you can reuse this calendar for years to come. The confetti design is a piece of art—hang it in a place you'll see it every day, above your desk, or on the family bulletin board! Also includes a handy birthstone and anniversary gift guide for thoughtful gift-giving.
Our perpetual calendars make a lovely gift for the forgetful friend or organization queen in your life. You'll never miss another birthday or anniversary! Add all of your important reminders to this calendar and use it year after year, or fill it with family birthdays for a truly thoughtful gift. This birthday tracker will help you organize and remember all of your most important dates and will become your most used reminder calendar!
We're here with thoughtful products to help make remembering birthdays easier so that you can be there for those you love, even when you can't be there in person. The Polkadot Paper Company is a one-woman shop located in Austin, Texas. All products are designed, assembled, and carefully shipped by our founder, Paula.
T H I S _ L I S T I N G:
•• Includes one 4.25x11" Perpetual Calendar
•• Silver Twin-loop Binding
•• Center Hanging Hole
•• Birthstone & Anniversary Guide
•• 130# Cover Stock Front & Back
•• Sturdy 100# Cardstock Pages
CONVENIENT SIZE: Our perpetual calendar is the perfect size for displaying on your wall or keeping in your desk drawer. Measuring 4.25x11", each single-sided page features one month.
DATES AT A GLANCE: Each monthly page makes it easy to see your special events at a glance. Keep track of birthdays, anniversaries, and holidays in one convenient place. Write it in once and use it year after year. No more copying information from one calendar to another.
QUALITY & DURABILITY: Our calendars are made to last. The sturdy 130# front and back cover protects the inside pages and keeps the calendar flat. Inside, you'll find each monthly page printed on 100# cover stock. No flimsy paper here. The thick paper helps resist bleed through.
FUNCTION: Each calendar is hand-bound with a hidden seam on silver twin-loop wire. The center hanging hole lets you hang the calendar where you will see it most. Its classic design will fit into your decor for years to come. In addition to the monthly pages, each calendar includes a handy birthstone and anniversary gift guide for quick and easy reference. 
GREAT FOR GIFTS: Perpetual calendars make thoughtful gifts for everyone including moms, grandmas, grads, and everyone else on your list. Fill them with special dates or pair them with pretty pens and greeting cards for a meaningful gift. 
M O R E _ O P T I O N S:
Check out my other perpetual calendar designs:
Style Chalkboard Style - https://www.etsy.com/listing/162757220/
Confetti Dots - https://www.etsy.com/listing/198795921/
S H I P P I N G:
Calendars are ready to ship via USPS First Class Mail.
C O P Y R I G H T:
All designs are ©Polkadot Paper Company® all rights reserved.
C O N T A C T:
Feel free to convo me through Etsy, find me on Instagram @polkadotpapercompany or visit my website at www.polkadotpapercompany.com for fun updates and ways to use my products or join my newsletter for free downloads!
Questions? Message me right here on Etsy by clicking the contact link under my photo!