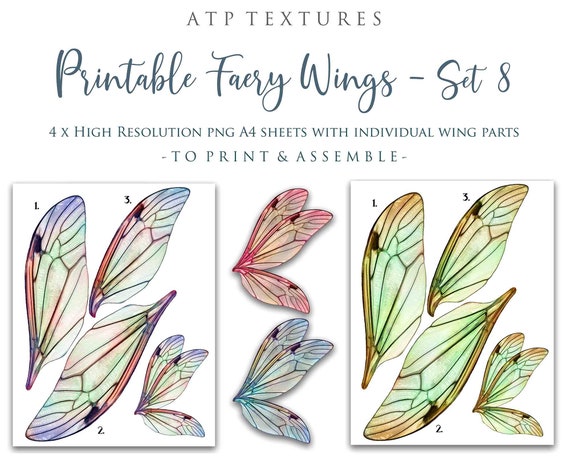 PRINTABLE FAIRY WINGS Set 8 - Scrapbooking Clipart, Digital Wing, Print, Cosplay, Photoshop Png, Art Doll Faery, Child Costume, Pattern
By ATPTextures
Product Info
Fairy Wings Png Digital Printable Template.
Now you can create beautiful, transparent Faery Wings for your Art Dolls with these sweet printable files.
These can also be printed in larger sizes to create your very own unique faery wings for cosplay.
Made with a base photograph of real insect wings, these really are lovely.
High resolution, PNG printable files, set for A4 sizing.
These will require you to print, cut out and assemble the wings.
This is a DIGITAL product. No physical item will be sent.
✩✩✩✩✩✩✩✩✩✩✩✩
This set includes...
1 styled wing with 4 copies, in different colours. These can be used as faery wing overlays in your photography, or you can print them as they are.
4 Copies of the wings, un-assembled, all ready to print, on A4 sizing. ( This is so that you can create realistic, moving and parted wings. )
4 Duplicates are included. These are highly saturated and specifically for use in printing on Acetate.
These are perfect to print on A4 INKJET PRINTABLE ACETATE, which will retain that see through quality.
You can cut them out and assemble them. Add your own glitter, stars or beading for a sweet, authentic look.
Use them on your art dolls or even on your teddy bears, for a gorgeous fantasy element!
The Wing Overlays are presented as one side only. You will need to print them twice, one for each side.
I have made these in high resolution, most are over 7 MB.
You can adjust the colour tones very easily in your chosen program, e.g. photoshop.
🌸 A VIDEO has been included in this listing for those of you who are not sure how to access files via PDF downloads.
+ To sell hand made wings using these templates you will need to buy a commercial licence. https://www.etsy.com/au/listing/715972093/printable-faery-wings-commercial-licence?ref=shop_home_active_1
✩✩✩✩✩✩✩✩✩✩✩✩
Find more great Overlays & Textures in my store! https://www.etsy.com/shop/ATPTextures
🌼 IMPORTANT READ 🌼
You will need to print, cut and assemble the wings yourself. ATP Textures only offers the digital product and will not assemble or print the wings for you.
Colours may alter, depending on the ink or printer that you use. I am not responsible for any discrepancies.
Because the files are a digital product, there are no returns on purchases.
There is 1 pdf file you will need to download, after you purchase the printable files. This will link you to your files.
All you need to do is open the PDF with a double click.
Adobe will open it into Reader.
Your PDF has all the instructions you need to download your Printable Wings.
🌼 REGARDING USE 🌼
All my Faery Wing Printable files are available for personal use.
+ You can use these wings to create fantasy art dolls and fairies, that you wish to add to your personal collection, however you like! If you wish to use these files to create wings that you intend to sell, eg. Etsy, Ebay or a physical store, you need to purchase a commercial licence.
+ You can incorporate the wings in your photography as an overlay, in a flattened state, without a commercial licence. You will need to add a link to ATP Textures with your listing when selling or advertising your work on the internet, eg. Etsy, Facebook or Instagram. If you are a professional Photographer supplying a finished, printed photograph to clients, you DO NOT have to credit ATP Textures.
+ To use these commercially you will need to buy a commercial licence. https://www.etsy.com/au/listing/715972093/printable-faery-wings-commercial-licence?ref=shop_home_active_1
+ You cannot create Digital Papers, Cards, Invitations, Overlays, Prints, Backdrops or Marketing material which you will re-sell to the public without a commercial licence.
+ These Overlays are licensed for one business/photographer/studio only and must not be copied, shared, re sold or transmitted in any other form, physical or digital.
Thank you so very much for visiting my store, have a great day!
✩✩✩ Just a little side note. ✩✩✩
Your files are ZIPPED. You need to Unzip them to access the PNG files.
Any trouble getting your download, PLEASE don't hesitate to contact me! I want you to have all your files!