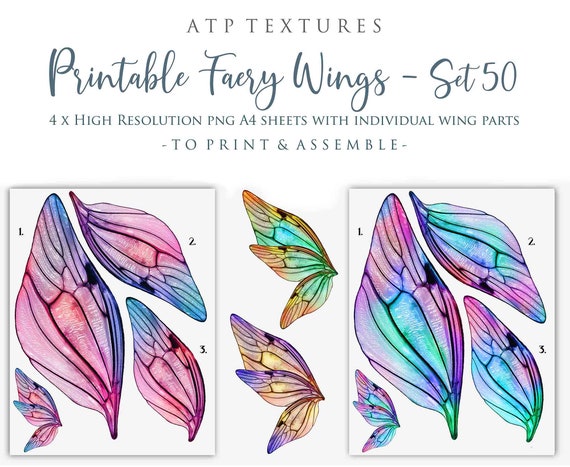 PRINTABLE FAIRY WINGS Set 50 - Clipart Png Print, Fairy Costume, Fairy Wing, Doll, Earrings, Photoshop Overlay, Scrapbooking Art
By ATPTextures
Product Info
Fairy Wings Png Digital Printable Clipart Template.
Now you can create beautiful, transparent Faery Wings with these sweet printable files.
These can also be printed in larger sizes to create your very own unique adult sized faery wings for cosplay.
Made with a base photograph of real insect wings, these really are lovely.
High resolution, PNG printable files, set for A4 sizing.
These will require you to print, cut out and assemble the wings.
This is a DIGITAL product. No physical item will be sent.
✩✩✩✩✩✩✩✩✩✩✩✩
This set includes...
1 styled wing with 4 copies, in different colours. These can be used as faery wing overlays in your photography, or you can print them as they are.
4 Copies of the wings, un-assembled, all ready to print, on A4 sizing. ( This is so that you can create realistic, moving and parted wings. )
4 Duplicates are included. These are highly saturated and specifically for use in printing on Acetate.
These are perfect to print on A4 INKJET PRINTABLE ACETATE, which will retain that see through quality.
You can cut them out and assemble them. Add your own glitter, stars or beading for a sweet, authentic look.
Use them on your art dolls or even on your teddy bears, for a gorgeous fantasy element!
The Wing files are presented as one side only. You will need to print them twice, one for each side.
I have made these in high resolution, most are over 15 MB.
You can adjust the colour tones very easily in your chosen program, e.g. photoshop.