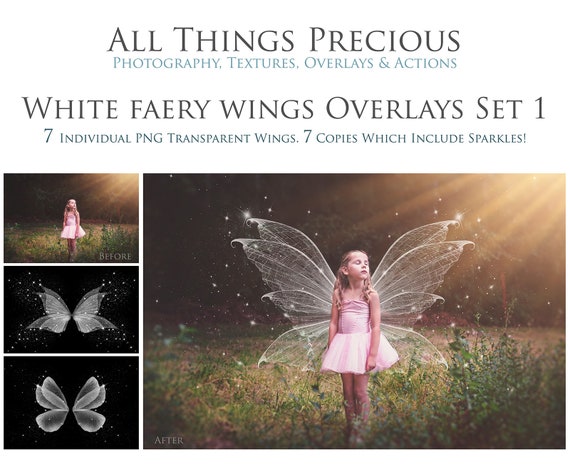 14 Png WHITE FAIRY WING Overlays Set 1 / Fairy Overlay, High Resolution Wings, Digital Photography, Realistic, Fantasy, Photoshop Edit
By ATPTextures
Product Info
Now you can add beautiful, transparent, high resolution, faery wings to your photographs! These are gorgeous PNG overlays, something you wont find anywhere else!
Created with a base photograph of real insect wings, these really are lovely.
You can see the veins and detail of each wing, which makes them look so much more authentic with the added bonus of being "see through".
*******************************
This set includes...
14 PNG white faery wing Overlays.
7 original wings with 7 duplicates that have added fairy sparkles!
The wings are presented as one side only. This gives you the flexibility to manipulate their overall perspective to suit each one of your images.
I have made them in high resolution, most are over 3 MB. If you want to use them for your fine art prints without losing quality, you can!
NOTE...
These wings come with a duplicate copy in low resolution with a black background. These are not to be used. They are an example image of each wing. When you have a white object on a transparent background you can't see what they look like! These are included so you can see which overlay you would like to use.
Each Overlay is individual, but can easily be layered together to achieve the effect you want.
You can adjust the colour tones very easily in your chosen program, e.g. photoshop.
*******************************
HELP WITH ADDING FAERY WING OVERLAYS - Free Video Tutorial
I believe all my customers should have access to help with adding fairy wing overlays. This video is here to teach you how to add wings to your images, with perspective being a key element.
( You will need to copy and past the link into your url bar )
http://www.mediafire.com/file/5funo10kf8hx9ti/HOW_TO_ADD_FAIRY_WINGS_VIDEO_TUTORIAL_By_All_Things_Precious.zip/file
*******************************
Want some more digital wings, but in a different shape? I have many available! Check out these sets!
https://www.etsy.com/au/listing/576197775/20-high-res-fine-art-digital-png?ref=shop_home_active_5
https://www.etsy.com/au/listing/573337557/20-high-res-fine-art-digital-png?ref=related-3
https://www.etsy.com/au/listing/593732412/20-high-res-fine-art-digital-png-resting?ref=shop_home_active_8
https://www.etsy.com/au/listing/615329739/20-high-res-fine-art-digital-png?ref=related-5
Find more great Overlays & Textures in my store! https://www.etsy.com/shop/ATPTextures