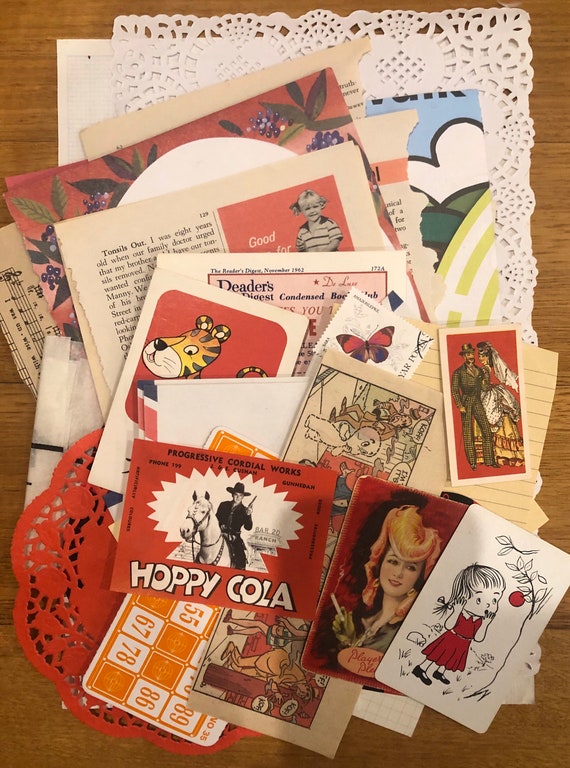 Paper pack,Authentic vintage ephemera, vintage coloured paper pack, vintage paper, trading cards, maps,
By Twineysworkshop
Product Info
This colour pack contains ONLY GENUINE and AUTHENTIC VINTAGE EPHEMERA & PAPER.
A beautiful set of vintage ephemera to craft with, decorate junk journals, bullet journals, pen pal letters and envelopes or wrap presents with. And you can choose one colour of the rainbow to decorate with.
This pack has so much authentic vintage goodness and includes;
* 1964 Readers Digest adverts
* Wills cigarette card
* vintage trading cards
* vintage playing cards
* bus tickets
* vintage 1950-1970 soft drink labels
* vogue dress pattern paper
* vogue dress pattern covers/cut out ladies
* vintage stamps
* vintage postcard - some date back to 1908 as per pic.
* library envelope & card
* children's book pages
* French book page
* doilies, white or coloured
* comics
* music sheet paper
* maps/ brochure maps
* bingo card
* shilling sheet
* air mail envelopes x 2
* Italian writing card
* graph paper
* brown lined kraft paper
* japanese word cards
* paper bag with tea image
* coffee cup writing paper
* map writing card
Each pack is different and unique and contains a variety from the list above but mostly everything listed above. There is about 35 pieces per pack.
Choose a pack from one of the colours of the rainbow. Red, orange, yellow, green, blue, purple.
A fun pack to send and a delight to open and see what is inside.
We are happy to write a gift card and wrap it and send it as a gift to a friend.