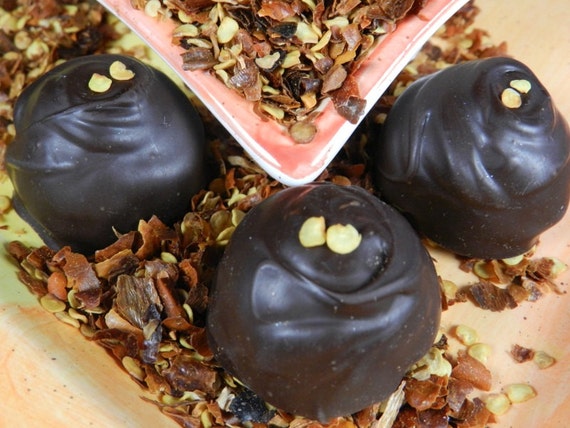 Product Info
Our Spicy Chocolate Truffle Assortment is handcrafted with dark Belgian chocolate and blended with cayenne, chipotle and chocolate habanero chili pepper spices.
When we say hot...we mean hot...Hot...HOT!
Chili's and chocolate, each a powerful ingredient, mixed together for an even more dynamic duo. Dark rich chocolate becomes twice as satisfying and mysterious charged with hot spicy chili's.
In turn, chili's exciting heat is made more gentle in a chocolate base.
4 Cayenne Chili Pepper Truffles
4 Chipotle Chili Pepper Truffles
4 Chocolate Habanero Chili Pepper Truffles
Join us on Facebook: Facebook.com/nvchocolate
Twitter: @napachocolateco
Pinterest: nvchocolateco
Visit our web-site @: www.napavalleychocolateco.com