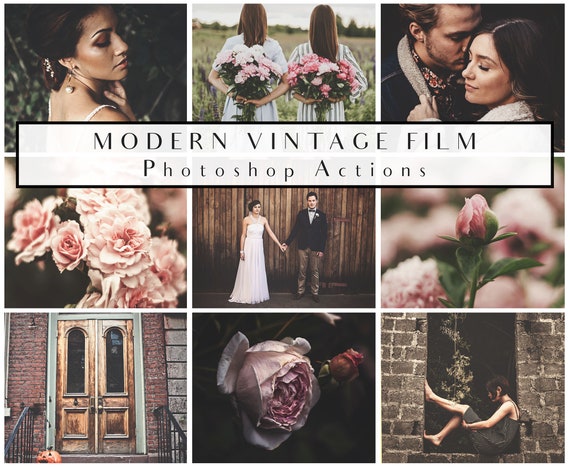 35 PHOTOSHOP ACTIONS, Modern, Vintage FILM - Digital Photography, Wedding, Matte, Newborn, Photo Editing, Instagram Edit
By ATPTextures
Product Info
Actions for Photoshop, Photographers and Creative Artists.
Beautiful modern vintage film Photoshop Actions to enhance your images, speed up your work flow and turn your photography into fine art, quality pieces that you will be proud of!
Want a closer look at the actions being used? Pop on over to my website. More sample images and a full video of the colour tints.
( Copy & Paste the link into your website url bar. )
https://atptextures.com/collections/photoshop-actions/products/over-35-fine-art-digital-modern-vintage-film-photoshop-actions-digital-photography-background-wedding-photo-action
*****************************
This set includes...
Over 35 photoshop actions to take your image from start to finish.
With 7 great starter actions, including dodge and burn, reduce redness, tidy up and skin smoother, plus more.
A fabulous base action, which is very useful, even when simply used on its own.
14 Modern film actions, all in a variety of tones and shades.
I have also included 2 glow actions, matte actions, fix lighting actions and finishing actions to complete your image.
*Please note these actions have tips and notes that are in ENGLISH.*
They are compatible with all versions of photoshop above CS6.
That said, even if you are a beginner in PS, these actions can be of use to your learning curve! So long as you know about layers, masks and, of course, how to install actions and use them!
These Actions have been created in CS6. They may not install and work in older versions of Photoshop or Elements.
********************************
⭐ HELP WITH INSTALLING ACTIONS IN PHOTOSHOP ⭐
If you are new to using photoshop actions, you are most welcome to watch this free video tutorial.
( You will need to copy and past the link into your url bar. This will lead you to my website. )
https://atptextures.com/pages/how-to-install-photoshop-actions
⭐ WANT TO SEE HOW ACTION ADUSTMENTS WORK IN PHOTOSHOP? ⭐
( You will need to copy and past the link into your url bar. This will lead you to my website. )
https://atptextures.com/pages/all-photoshop-actions-are-adjustable
********************************
Find more great Overlays & Textures in my store! https://www.etsy.com/shop/ATPTextures