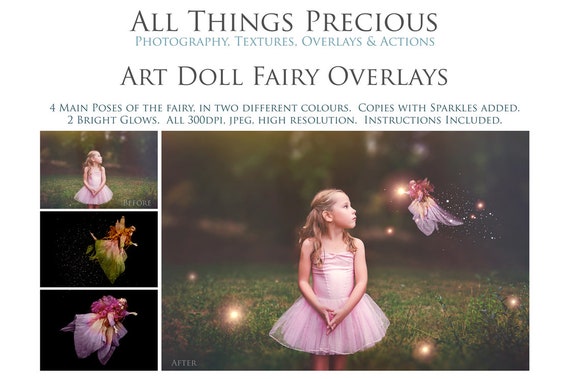 Digital FAIRY Art Doll Overlays, Realistic Faery, Fairy Glows, Photoshop Overlays, High Res, Magical, Fantasy Overlay, Fairy Overlays
By ATPTextures
Product Info
I have had this sweet fairy in my house for many years. I thought why not make her into fairy overlays, she looks so real and it would add a touch of authenticity to the photographs!
These are Jpeg files and will need the blending mode changed to LINEAR DODGE (add) OR SCREEN in photoshop or elements. (instructions are included! )
All Overlays are created in high, 300dpi resolution. The fairies are all between 3MB - 6MB. ( If you want to print your finished piece, you will not lose any of the quality. )
*****************************
Included in this set.
16 sweet Art Doll Fairy JPEG Overlays.
3 Fairy Glows
Instructions on using these jpeg overlays, including how to remove the black background!
***NEW***
VIDEO TUTORIAL is included with this set. Teaching you how to use the Faery Overlays, even on a lighter background.
***BE AWARE***
These work best on an image that has a darker background. They can be lost on a light background.
(It was a bit tricky to make these and I had to put them on a black background because I wanted to keep the extra details, like hair strands. They would be lost if I cut her out as a PNG file. )
To use these overlays simply place your selected one(s) over your main background layer and transform to suit your image.
Use a blending mode of LINEAR DODGE (add) or SCREEN. This will remove all the black background and leave you with a transparent overlay.
Any questions on how to use my products? Pop on over to my website where you can find more amazing digital products and a help centre! https://atptextures.com/
Or just send me a convo and we can have a chat!
*****************************
Find more great Overlays & Textures in my store! https://www.etsy.com/shop/ATPTextures
IMPORTANT READ
You will need to have or use a program that allows you to add layers and change blending modes. Like Photoshop.
You will need to have an intermediate understanding of photoshop, or elements, with a knowledge of adding and using layers and masks being essential.
Having a good understanding of the TRANSFORM TOOL in Photoshop will also be very handy in creating a realistic look. ( Perspective being a key element. )
Because the files are a digital product, I do not offer returns on purchases.
***PLEASE NOTE***
There is 1 pdf file you will need to download, after you purchase the bundle. This will link you to your files.
******Your PDF file has a hyperlink embedded into it.*****
All you need to do is open the PDF with a double click.
Adobe will open it into Reader.
Follow the instructions and your download will start immediately.
There are two links included in the file, choose one or the other, they both contain the same files.
** FOR MOBILE DEVICE DOWNLOADS **
SEND ME A CONVO if you want the files for your MOBILE DEVICE. I can send you a direct link via Messages or Email. ( eg. Using Photoshop Mix App. )
Otherwise, You will need to download these files to your desktop computer.
If you have any trouble, PLEASE let me know! I am glad to help!
*** REGARDING USE ***
All my Digital Overlays are available for personal use.
+ You can incorporate the Fairies into your photography as an overlay, in a flattened state, ( eg. Jpeg file ) without a commercial licence. You will need to add a link to ATP Textures with your listing when selling or advertising your work on the internet, eg. Etsy, Facebook or Instagram. If you are a professional Photographer supplying a finished, printed photograph to clients, you DO NOT have to credit ATP Textures.
+ To use these commercially you will need to buy a STANDARD or EXTENDED commercial licence. https://www.etsy.com/au/listing/591073701/standard-commercial-licence-for-textures
+ You cannot create digital cards, overlays, backgrounds, digital or physical papers, clipart or printed physical items without a commercial licence. https://www.etsy.com/au/listing/591073701/standard-commercial-licence-for-textures?ref=shop_home_active_83
+ These Overlays are licensed for one business/photographer/studio only and must not be copied, shared, re sold or transmitted in any other form, physical or digital.
***Just a little side note ***
Overlays and Textures are NOT photoshop actions. They can create amazing effects to your images, but you need to overlay them onto your image, using SCREEN mode. These are JPEG files, NOT ATN files!
The photoshop Brushes I made to create the overlays are also available in my store.
These files are a digital download. There are no returns on purchases.
Thank you so very much for visiting my store, have a great day!
PLEASE contact me if you have any questions! I am happy to help!