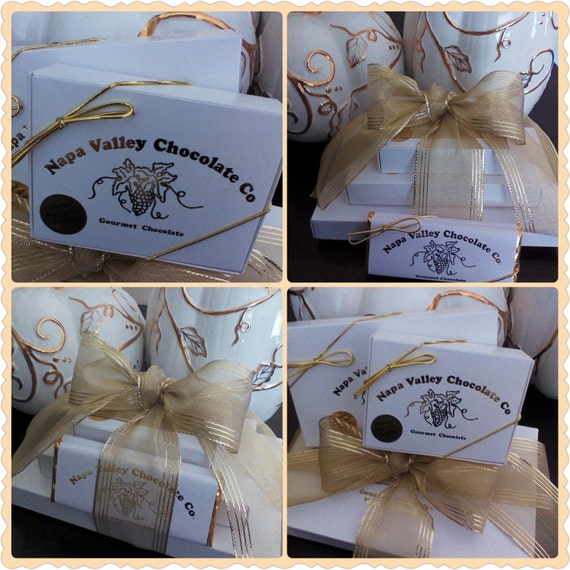 Product Info
Our Chocolate Tower of Artisan Chocolates is a perfect gift anytime of the year, but especially during the Holidays!
An assortment of Wine Truffles, Dark Chocolate Truffles, Buttery English Toffee or Honey Comb and Dark Chocolate Bars all wrapped together with festive ribbon ready for gift giving.
~ 6 Pc. Box Dark Chocolate Truffles
~ 12 Pc. Box Assorted Wine Truffles with Chardonnay, Rose and Cabernet
~ 1 lb. English Toffee
OR
~ 1 lb. Honey Comb
~ 2 Dark Chocolate Bars (Chocolatiers choice unless specific flavors we carry are requested)
This handcrafted Collection of Chocolate is made in small batches to insure the freshness and quality you expect from an Artisan Chocolatier.
Attractively boxed in white and gold these Artisan Chocolate Truffles, English Toffee and Dark Chocolate Bars are a pleasure to give and receive.
Napa Valley Chocolate Company was founded in the heart of the Napa Valley. Dedicated to the traditions of superior ingredients, craftsmanship, and customer service, Chocolatier Dodi Vincent and her two daughters Jessica and Michaella hope you'll consider Napa Valley Chocolate Company your personal Chocolatier.
Customization upon request
Facebook: https://www.facebook.com/nvchocolate/
Twitter: https://twitter.com/napachocolateco
Pinterest: https://www.pinterest.com/nvchocolateco/
Instagram: https://instagram.com/napavalleychocolateco/-
707-815-2963
[email protected]