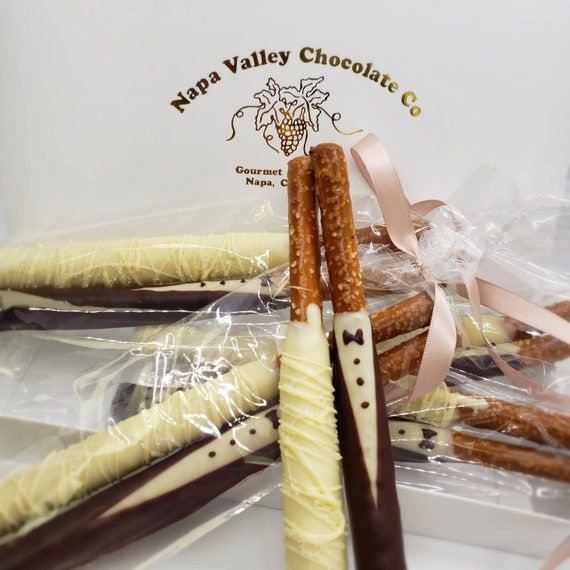 Product Info
Chocolate covered pretzel rods hand dipped in dark and white Belgian chocolate, dressed for the occasion.
Perfect wedding favors for your upcoming day!
Welcome Gift baskets for your guests!
6 Sets include:
6 Brides dipped in White Belgian Chocolate with pearl sprinkles and
6 Grooms dressed in their best Belgian Chocolate Tuxedos!
Larger sets price includes additional shipping charges!
One set per cellophane bag, tied with ribbon (to match your color theme) and packaged in a decorative giftable box.
Packaged 1 Bride and 1 Groom per cellophane bag and tied with ribbon to match your color scheme.
Please put ribbon color choice and a need by date/event date
so we can adjust the ship by date if ordering early in the personalization section.
Facebook: https://www.facebook.com/nvchocolate/
Twitter: https://twitter.com/napachocolateco
Pinterest: https://www.pinterest.com/nvchocolateco/
Instagram: https://instagram.com/napavalleychocolateco/-
707-815-2963
[email protected]