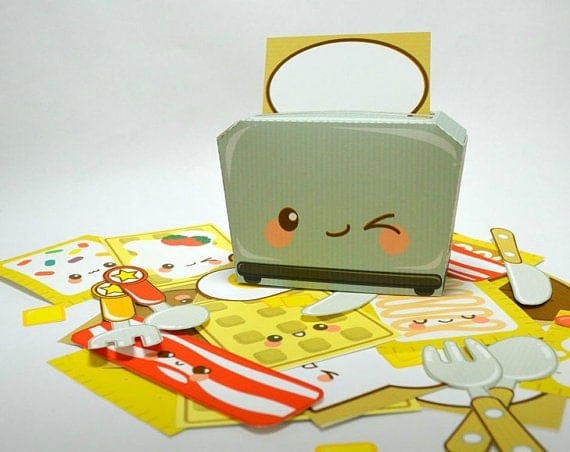 Breakfast Toaster Kit | Printable Paper Toy Craft Kid Friendly
By Paperholic
Product Info
BREAKFAST TOASTER KIT (PRINTABLE PAPER TOY CRAFT - KID FRIENDLY)
This INSTANT DOWNLOAD listing is for a high-resolution PDF file. It is a fun indoor activity featuring an adorable "kawaii" toaster along with breakfast food items, and flatware. Recommended for sleepovers, parties, or when you need something to do inside the house.
This paper toy craft includes the following:
• Toaster (approx. 5"x3.5")
• 3 Table Settings/Mats
• 2 sets of Flatware (Fork, Knife, & Spoon)
• Breakfast Clip Art (includes Bacon, Muffin, Egg, Apple, and extra Butter)
• Plain Bread (x4), Plain Bagel (x4), Plain Waffle (x4), Plain Pop Tart/Pastry (x4)
• Kawaii Bread (4 styles), Kawaii Bagel (4 styles), Kawaii Waffle (4 styles), Kawaii Pop Tart/Pastry (4 styles)
(All items are child-sized. Please keep in mind this kit is for play and NOT for real use. Also, because there's cutting involved, parents supervision and help would be ideal.)
INSTANT DOWNLOADS will become available after you purchase your order. A link will be available thru your Etsy related email or under your Etsy Account (ex. Your Profile> Purchases and Reviews.) http://etsy.me/2FjRCFC (We do not ship physical items.)
R E C O M M E N D E D • M A T E R I A L S
• Printer
• Adobe Reader®
• Utility Knife or Scissors
• Glue or Tape
P R I N T I N G • T I P S
• Please feel free to print at home or a print shop of your choice!
• Downloaded files are best viewed using Adobe Acrobat.
• If you're printing at home, please make sure to adjust your print's setting as needed. I would recommend to set the Print Quality to "High," and adjust the Paper Type as accordingly. Please do not scale the page.
• Please be advised that color outputs can vary from monitor to monitor. Actual prints may appear different on paper when comparing to the monitor and depend on the paper settings, ink, and paper brands.
T E R M S • C O N D I T I O N S
This order is meant ONLY for you. Digital files CANNOT be changed or edited. Digital files are password protected, and passwords will not be shared for security reasons. Paperholic files are for PERSONAL USE ONLY. Commercial use is strictly prohibited. That means no file-sharing, resale, or unauthorized use of materials of the original file and/or prints.
By purchasing Paperholic files, you are acknowledging and agreeing to the terms and conditions of use.
© Paperholic. All rights reserved. For personal use only, not commercial use. Copyright is NON-transferrable.