Our daughter was really into 'Pretend Shopping" this past year. She was set on the idea of having a Mini Market Theme for her 5th Birthday. I consider myself to be pretty crafty but I was almost intimated to go with this theme. After a lot of research on the internet;it didn't take me long to get my ideas rolling. This website was very inspiring http://bolitascarnival.com/entertainment/bolitas-mini-supermarket/
After months of planning and making everything for the Market; it turned out great. It was a different theme but everyone had a blast! Hope this inspires you to throw your little one their very own Mini Market Party.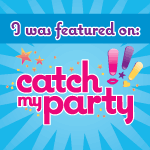 Desserts

Birthday Cake

Activities / Games

Grand Opening Ceremony complete with Ribbon cutting, Pretend Shopping as customers then reverse roles to employees to re-stock the store. We also had a canvas wallets for the kiddos to decorate using fabric markers. This doesn't really go have anything to do the party but I guess I should mention that our daughters B-day party happen to fall on the same day of Texas Longhorns football game; so needless to say that my husband took his flat screen TV. I wasn't to thrilled on the idea but since he had been a big help with all the planning and allowed me to have no budget I went with it. To my surprise all the dads were very grateful and no one left early.

Best Moment

Seeing all the kids and parent faces admire all the decor. It was worth all the sleepless nights knowing that everyone had a good time.

What People Ate

"Bee Hive Deli" served Chicken Tenders, corn dogs, Chili, Nachos, french fries, fried burritos, mashed potatoes, and mac & cheese. We went with foods available at our Grocery Deli. We had 3 deep fryers and double crock pot so the food was served hot.

What People Drank

Orange and Lemonade Gatorade's, bottle water and soda

Funniest Moment

Ribbon cutting ceremony...we used red streamer as the ribbon. I purchased wooden art decor scissors from Hobby Lobby. I took off the hanging hook and painted the blades silver and the the handles blue. Although they didn't cut they were super cute. Looking for pic to post later.

Most Touching Moment

I put a $5 off coupon to encourage kids to bring their push shopping carts.o the party. I loved seeing all the kids that brought their push carts. It was cute seeing all the kids take turns sharing. I planned on buying a couple for the kiddos to share but instead I bought plastic caddies to use as hand shopping baskets from Dollar Tree online.