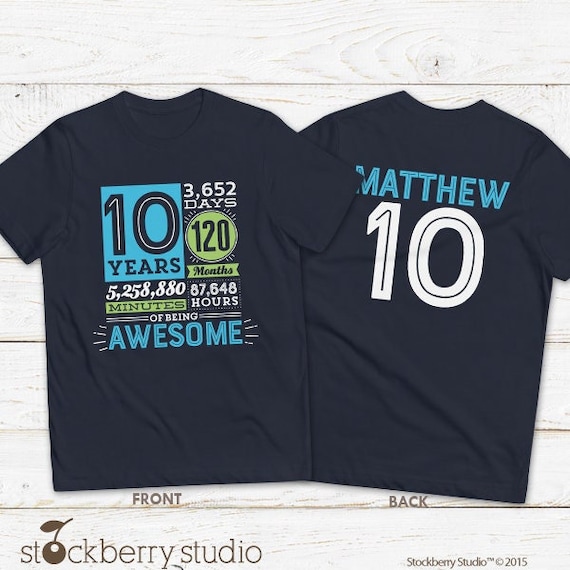 10 Years of Being Awesome Shirt 10 Birthday Tee Ten Year Old Girl Tenth Birthday T shirt for 10 Year Old Boy Birthday Countdown Tshirt
By Stockberry Apparel
Product Info
10 Years of Being Awesome Birthday Countdown 10th Birthday Shirt
Checkout our other birthday items: https://etsy.me/3YiybE9
OTHER AGE SHIRTS:
1 Years Old Shirt: https://www.etsy.com/listing/834440543/
2 Years Old Shirt: https://www.etsy.com/listing/833862461/
4 Year Old Shirt: https://www.etsy.com/listing/833863113/
5 Years Old Shirt: https://www.etsy.com/listing/833849251/
6 Years Old Shirt: https://www.etsy.com/listing/819956804/
7 Years Old Shirt: https://www.etsy.com/listing/819955692/
8 Years Old Shirt: https://www.etsy.com/listing/833852409/
9 Year Old Shirt: https://www.etsy.com/listing/819496352/
10 Year Old Shirt: https://www.etsy.com/listing/833392645/
11 Year Old Shirt: https://www.etsy.com/listing/833390099/
12 Year Old Shirt: https://www.etsy.com/listing/819483592/
13 Year Old Shirt: https://www.etsy.com/listing/819496010/
17 Year Old Shirt: https://www.etsy.com/listing/833391445/
18 Years Old Shirt: https://www.etsy.com/listing/819983014/
20 Years Old Shirt: https://www.etsy.com/listing/834455965/
30 Years Old Shirt: https://www.etsy.com/listing/834454441/
65 Years Old Shirt: https://www.etsy.com/listing/834099847/
70 Years Old Shirt: https://www.etsy.com/listing/819972028/
90 Years Old Shirt: https://www.etsy.com/listing/834452743/
♥ ITEM DESCRIPTION
Personalized Design (shown above) printed onto a Navy Blue T-Shirt (Please note the design will print at a different size depending on the size selected and measurements may vary by up to 2″)
♥ BABY BODYSUIT SIZES AVAILABLE:
Newborn, 6M, 12M, 18M, 24M
♥ BABY, TODDLER KIDS' T-SHIRT SIZES AVAILABLE:*
6M, 12M, 18M, 24M, 2T (Size 2) 3T (Size 3), 4T (Size 4), XS, S, M, L, X
♥ CHECKOUT INSTRUCTIONS:
► STEP ONE: Please select your prefer shirt size and type apparel. Then fill in the personalized section with the below information.
1.) CHILD'S FIRST NAME ONLY
2.) CHILD'S AGE
3.) STATE THE TWO OR ONE PREFERRED COLORS FROM THE COLOR CHART THAT YOU WOULD LIKE ON YOUR ORDER
**IF CUSTOMER FAILS TO LEAVE A NOTE WITH THE KIDS FIRST NAME AND AGE. CUSTOMER IS CAUSING THEIR OWN ORDER TO BE DELAYED FROM ITS ORIGINAL PURCHASE PROCESSING DATE.**
► STEP TWO: Add it to your cart & Checkout
ORDER PROCESSING TIME:
For Current Processing Time & Shipping Information please visit our shop policies:
https://www.etsy.com/shop/stockberryapparel#policies
♥ REFUNDS & EXCHANGES
Due to the custom nature of Stockberry Apparel's products, there are NO REFUNDS, CANCELLATIONS or EXCHANGES once your order have been placed.
♥ SHOP POLICIES
By purchasing this listing you are agreeing to Stockberry Apparel's Shop Policies.
♥ COPYRIGHT
STOCKBERRY APPAREL'S T-SHIRT DESIGNS AND ILLUSTRATIONS are protected by US copyright laws, and EVERYTHING LISTED belongs to STOCKBERRY APPAREL.
►►► You may not manipulate, copy, alter, resell in any way images, products or other Content in this shop without specific permission from STOCKBERRY APPAREL the copyright owner.
►►► NO design and illustration stealing, reselling, commercial use, mass production or modifying files. You may not resell the invitation as a digital or a printed product.