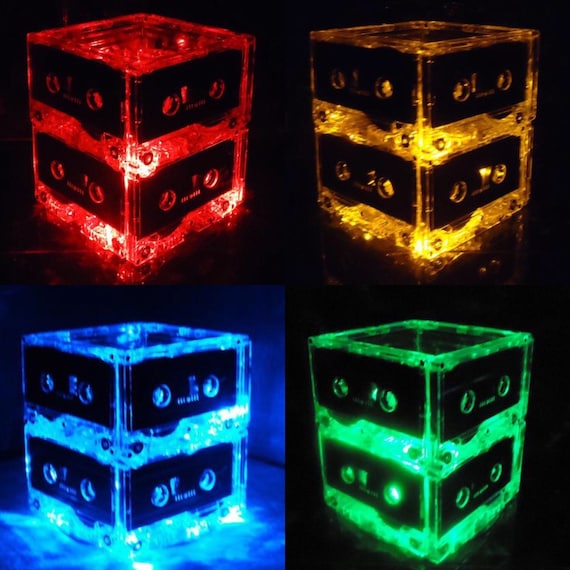 Any color Cassette Tape Centerpiece for 80s 90s party decoration Cassette Tape Light
By Break The Record
Product Info
This unique lighted party or wedding centerpiece is sure to be the hit of your music, 80s, or 90s themed party or the centerpiece everyone at your wedding tables is hoping to take home with them.
Cassette Tape Light Centerpiece created by Break the Record........ The ORIGINAL Mixtape Light!
Impress your guests on your big day with this retro rockin' BLUE centerpiece light!
8 repurposed very rare completely blank cassette tapes and one CD were handcrafted into a super fun rockin' retro table centerpiece holding 20 battery operated mini LED lights.
Your guests will be fighting for who gets to take one home from their wedding table.
*********Can also be made to hold water in case you want to add fresh flowers!*********
This light measures approximately 4 inches long by 4 inches wide by 5 inches tall.
*************All of my Cassette Tape Lights are handcrafted to perfection. I only use LED lights which produce zero heat. *****************
I have these lights available in many different colors and sizes as well as some pretty cool stuff made from vinyl records. Go to: http://www.etsy.com/shop/BreakTheRecord?ref=si_shop
As the ORIGINAL creator of the Mixtape Lighted Centerpiece, I take great pride in the construction of my Cassette Tape Lights. If you are looking to order several, I have the ability to create unlimited quantities for the largest events. The idea came to me in 2011 when someone purchased a Vinyl Record Clock from me for her unborn son's nursery. It was a retro themed nursery and I thought "wow, what could I make out of cassette tapes for a retro themed bedroom, nursery, or even a party?" My first thought "every baby's bedroom needs a night light!!!!" So I got out some of my old cassette tapes from the early 90's and started experimenting. And the Cassette Tape Night Light Lamp was born! You will love this Retro Lamp Rainbow Colored MixTape Lighted Centerpiece Cassette Tape Night Light Lamp and it makes the perfect party centerpiece.