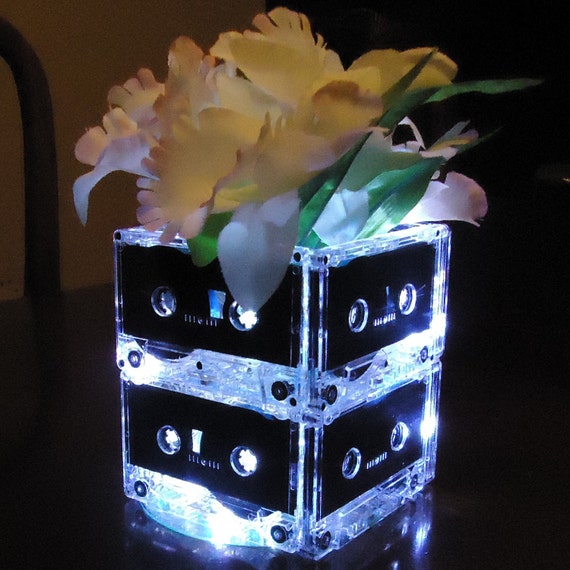 Wedding Table Centerpiece Audio Cassette Tape Night Light Lamp Upcycled Retro Ecofriendly
By Break The Record
Product Info
Cassette Tape Light Centerpiece created by Break the Record........ The ORIGINAL Mixtape Light!
As the ORIGINAL creator of the Mixtape Lighted Centerpiece, I take great pride in the construction of my Cassette Tape Lights. If you are looking to order several, I have the ability to create unlimited quantities for the largest events. The idea came to me in 2011 when someone purchased a Vinyl Record Clock from me for her unborn son's nursery. It was a retro themed nursery and I thought "wow, what could I make out of cassette tapes for a retro themed bedroom, nursery, or even a party?" My first thought "every baby's bedroom needs a night light!!!!" So I got out some of my old cassette tapes from the early 90's and started experimenting. And the Cassette Tape Night Light Lamp was born! You will love this Retro Lamp Rainbow Colored MixTape Lighted Centerpiece Cassette Tape Night Light Lamp and it makes the perfect party centerpiece.
Wedding Table Centerpiece Audio Cassette Tape Night Light Lamp Upcycled Retro Ecofriendly
"And if you feel that you can't go on, In the light you will find the road ....... In the light
Everybody needs the light. " -Led Zeppelin
Light up your wedding tables with this very unique Cassette Tape Light Wedding Centerpiece.

8 Upcycled previously-loved cassette tapes, a recycled water bottle and one CD handcrafted into a super fun rockin' retro Wedding Table Centerpiece, holding battery operated white mini LED lights. Your guests will be talking about them for a long time. Perfect to send home with your guests after the celebration.

Custom orders welcome. Please message me with any questions. Other light colors available.
Also, use in a bedroom as a night light or a living room to give some mood and character to the living area.