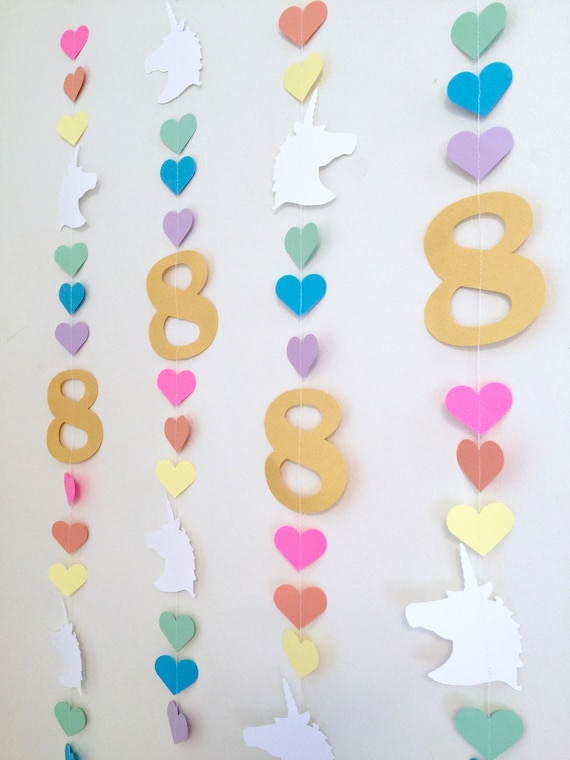 Unicorn Birthday Garland - Magical Unicorn Decoration Backdrop - Rainbow Unicorn Birthday Party - your color choices
By anyoccasionbanners
Product Info
This Anyoccasionbanners vertical Unicorn Birthday Garlands are just the thing for your event! You can choose the colors and the number of garlands you want! This rainbow Unicorn garland will be sure to make your little one smile!
I made these Sample unicorn garlands with white card stock unicorn heads , bubble gum pink, peach, light yellow, mint, aqua blue and light purple and card stock 1.5 inch hearts. This client wanted the number 8 in metallic gold so it really POPPED!! . Each strand measures between 2 1/2 and 3 feet in length, from top to bottom and you can choose how many separate strands that you need for your event!! The photos show 4 strands and also 5 strands hung together. You choose how many INDIVIDUAL garlands you need!! I take the shapes and machine sew them together with sturdy white thread leaving excess at the top of each strand for easy hanging. They will be that perfect touch to your little one's Birthday photos-hanging behind their high chair or as the backdrop over a cake table or gift table!! Very cute hanging from the chandelier in the center of the room too!
LOVE this garland but need different colors? No problem =) Simply include your color choices from the color chart on your order upon check out.
Unicorn color-
hearts- up to 6 colors but in multiples of 3's
Number needed and color -
Only choose gold or silver for the number please. If you do not include any color changes on your order we will do your order in the colors shown.
If you are wanting these made with stars instead of hearts click here:
https://www.etsy.com/listing/788433698/unicorn-birthday-garland-magical-unicorn
Message me if you need any help or if you have any questions.
Looking for something for a sweets party? check out this link
https://www.etsy.com/listing/712203647/ice-cream-birthday-garland-sweets
ALL garlands are made to order and are ready to send out 3-5 business days after purchase. delivery times vary on location.
Thanks for stopping by!