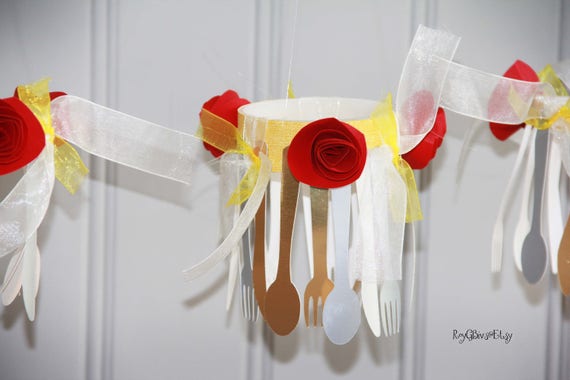 Product Info
Silverware Chandelier - Be Our Guest - Beauty And The Beast - Party Decoration - Photographer Prop
Be our guest! Three beautiful chandeliers with dancing silverware that will set the tone for your princess party! They are so cute above the cake or guest table!
Each chandelier has gold & silver spoons, knives and forks that were cut from metallic card stock hanging from it. The silverware is 4" tall. The chandeliers are hanging from a sturdy ring that does not bend. The chandeliers are roughly 4.5" tall.
The middle Chandelier has 3 sets of gold silverware and 3 sets of silver. (18 total)
The two end chandeliers have 3 sets of gold silverware and one silver piece in between each set. (12 total)
All 3 chandeliers have white and yellow ribbon on them and are embellished with three magical red roses spun from paper. They all come with clear string attached so you can hang them. They are gorgeous and sure to make your little princess and her guests happy.